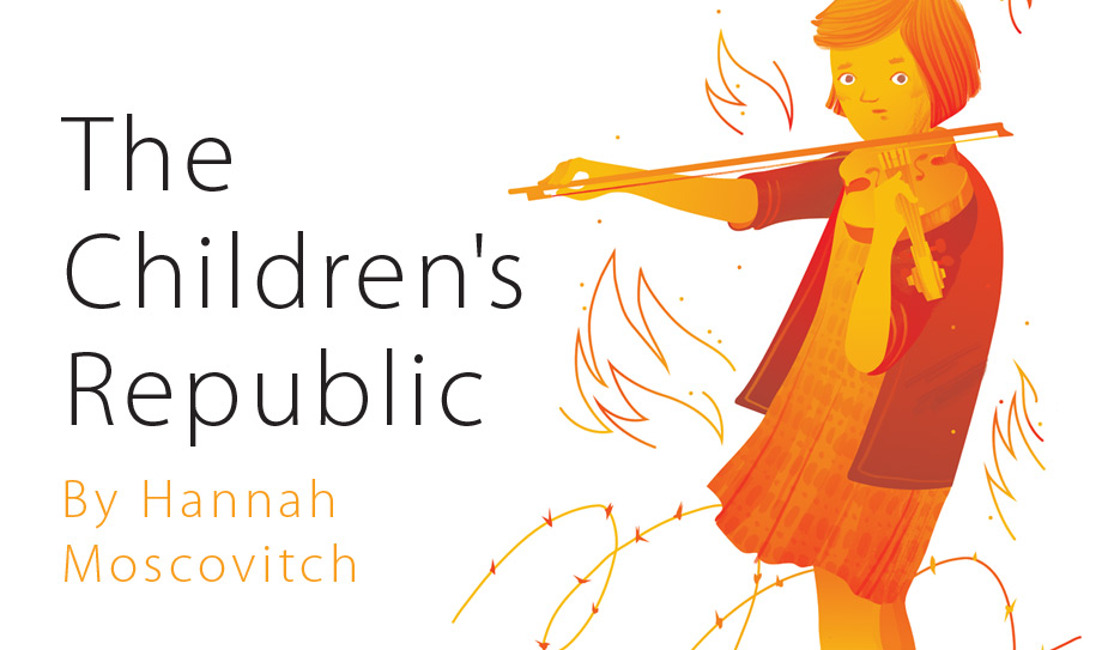 The Belfry presents The Children's Republic by Hannah Moscovitch
"The lives of great men are like legends - difficult but beautiful" Janusz Korczak
Wednesday, August 30, 2017 — Victoria, BC...From September 12 to October 8, the Belfry Theatre will premiere a new version of Hannah Moscovitch's play, The Children's Republic. Directed by Christian Barry, The Children's Republic stars Sari Alesh, Lily Cave, Sophia Irene Coopman, Zander Eke, Paul Rainville, Kerry Sandomirsky and Simeon Sanford Blades.
The Children's Republic is based on the true and inspirational tale of Dr. Janusz Korczak, a selfless advocate for children's rights. His work with children continues today through The Janusz Korczak Association of Canada (and other associations throughout the world). Dr. Robert Oppenheimer, a retired child psychologist living in Victoria, has written a brief biography of Dr. Korczak.
The play takes place in a Jewish Orphanage, confined within the walls of the Warsaw ghetto. Dr. Korczak struggles to protect the children and save them from the horrors of World War II. A powerful and true story of beauty and heroism in a world devoid of freedom and the necessities of life.
We've cast four talented young local actors - Lily Cave, Sophia Irene Coopman, Zander Eke and Simeon Sanford Blades - as the children in this exceptionally powerful piece.
Lily (Monterey Middle School) and Simeon (Central Middle School) starred as Fan and Tiny Tim in our original production of A Christmas Carol in 2012. Sophia (Bayside Middle School) and Zander (Oak Bay High) are making their Belfry debuts.
Belfry favourites Paul Rainville (Art) and Kerry Sandomirsky (Skylight, Brilliant!) return as Korczak and his assistant Stefa. In a twist that ties The Children's Republic into the here and now, Sari Alesh, a recent Syrian refugee, provides the haunting music live onstage.
Hannah Moscovitch is considered one of the strongest playwriting voices in North America. Her projects for the stage include Old Stock: A Refugee Love Story (which closed at the Edinburgh Fringe Festival this past Monday), East of Berlin, The Russian Play (2010 SPARK Festival), Little One (2013 SPARK Festival), This is War, Infinity, What a Young Wife Ought to Know (2017 SPARK Festival), Bunny and In this World (for young audiences). Her work has been produced across Canada, as well as in the United States, Britain, Ireland, Greece, Austria, Germany, Japan and Australia. She's won multiple awards and prizes for her work, including the Trillium Book Award (the first playwright to win the prize) and the international Windham-Campbell Prize administered by the Beinecke Library at Yale University. She is a playwright-in-residence at Tarragon Theatre in Toronto.
"Hannah Moscovitch is one of the world's great writers – and this is an exceptionally beautiful play. Knowing that she wanted to revisit this script, we commissioned her to write a new version. At an exciting workshop last October, Hannah began empowering the children to tell the story – a brilliant reflection of Korczak's approach to nurturing the young." Michael Shamata
The Children's Republic is directed by Christian Barry, Artistic Director of 2b theatre in Halifax. Christian and 2b have brought four productions to SPARK Festivals past, including What a Young Wife Ought to Know (2017 SPARK Festival) and his collaboration with Hawksley Workman, The God That Comes (2015 SPARK Festival).
Creative Team
Hannah Moscovitch (Playwright)
Christian Barry (Director)
Camellia Koo (Designer)
Kaitlin Hickey (Lighting Designer)
Jennifer Swan (Stage Manager)
Sadie Fox (Assistant Stage Manager)
Live & Outreach Events during The Children's Republic
B4PLAY
Saturday, September 9 at 11 am
Belfry Theatre, Studio A, 1291 Gladstone Avenue
Free Event. A live talk show hosted by CBC Radio's Gregor Craigie, with guests including playwright Hannah Moscovitch, director Christian Barry, Dr. Kristin Semmens and retired child psychologist Dr. Robert Oppenheimer.
B4Play is streamed live on Facebook and also podcast on our website and at soundcloud.com/belfrytheatre.
AFTERPLAY
Facilitated discussions – audience member to audience member – will follow every evening Mainstage performance of The Children's Republic (except Opening Night and Talkback Thursday). A great opportunity to share your thoughts and hear fellow patrons' reactions to the production and the ideas it presents.
TALKBACK THURSDAY
Thursday, September 21
Meet some of the actors post-performance when they return to the stage to answer questions and provide insight into the play.
BOOKSMACK!
Monday, October 2 at 7:30 pm
Librarians go head-to-head as they race against the clock to speed review their favourite books in these fun and competitive events, co-presented with the Greater Victoria Public Library.
VOCALEYE
Sunday, October 1 at 2 pm
For our patrons with low or no vision, we offer this VocalEye performance during The Children's Republic. Trained Audio Describers provide descriptions of the visual elements of the show, allowing people with low vision to enjoy the theatrical experience without missing any of the details.
The Flame
Monday, September 25 at 7 pm
Join host Deborah Williams for an unforgettable evening of true tales at Victoria's preeminent true storytelling series. The Flame is a storytelling series that features real people, sharing their personal true stories in front of a live audience. The Lobby will be set up cabaret-style; seating is first-come, first-served — those arriving later may find standing room only. Lobby opens at 6pm. Tickets are $15 Adults and $9.50 Students, plus tax.
Show Sponsors
The Children's Republic is generously supported by Chateau Victoria.
Season Sponsors
The Belfry is generously supported by The Times Colonist and Helijet.
Public Funders
The Belfry is funded by the Canada Council for the Arts, the Province of BC, BC Arts Council, CRD Arts Development and the City of Victoria.
Ticket Information
Tickets for The Children's Republic range from $20 to $53 (plus GST). Tickets are available at 250-385-6815 or online at tickets.belfry.bc.ca. Prices are subject to change.
Rush Tickets
For our weekday evening performances we offer a limited number of last minute rush tickets at a discount. Rush tickets are:
> available at the Box Office 30 minutes before each evening performance (Tuesday to Friday),
> in person only,
> subject to availability, and
> 40% off our regular Zone 2 (Yellow Section) and Zone 3 (Red Section) ticket prices.
Ticket Discounts
High School Students – 50%
University / College / Post Secondary Students – 25%
Seniors – 10%
Members of the Military – 25%
Groups (10 or more) – 10%
Performance Schedule (September 12 - October 8)
Tuesdays - Thursdays at 7:30 pm
Fridays and Saturdays at 8 pm
Wednesday Matinees at 1 pm (September 20 + 27, October 4)
Saturday Matinees at 4 pm
Sunday Matinees at 2 pm
-30-
Media Contact
Mark Dusseault
Director of Marketing & Communications
Belfry Theatre
250-385-6835
pr@belfry.bc.ca
Mark Dusseault Director of Marketing and Communications, Belfry Theatre