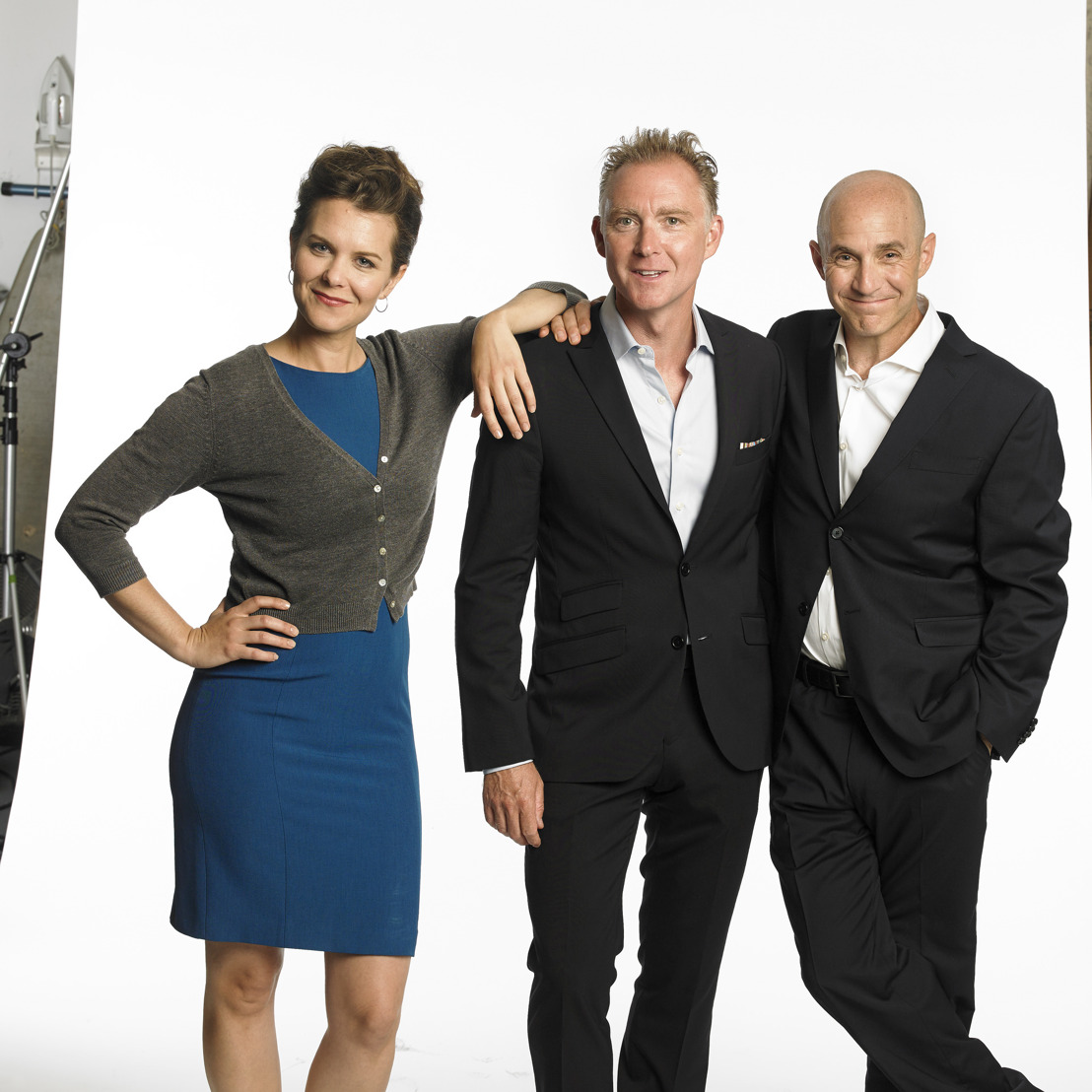 Speed-the-Plow
"The deftest and funniest of Mamet's works" The New Republic
Monday, August 31, 2015 — Victoria, BC...From September 15 to October 11, the Belfry Theatre will open its 40th Anniversary season with David Mamet's scathing comedy, Speed-the-Plow. Directed by Belfry Artistic Director Michael Shamata, Speed-the-Plow stars Vincent Gale (from last season's hit production of Venus in Fur), Brian Markinson (from TV's Mad Men) and Celine Stubel (Venus in Fur).
Hollywood producer Bobby Gould has just been handed a sure-fire hit – a blockbuster – that could catapult him and his old friend Charlie Fox into the big money. Or, he could make the "important" art house flick that his oh-so-attractive office temp is urging him to do. A savagely funny exposé of Hollywood and the male psyche.
No stranger to Hollywood, David Mamet wrote the screenplays for Wag The Dog and State And Main, (both about the film business) as well as Ronin, The Verdict, The Untouchables, Hannibal, Hoffa and Glengarry Glen Ross, among many others. His play, Sexual Perversity in Chicago, has been made into a movie twice, About Last Night (in 1982 and 2014). This past April it was announced that Speed-the-Plow is headed for the big screen with Mamet himself adapting the screenplay.
"After re-reading this script I said to myself, "Just do it!" It's a guilty pleasure – sexy and funny and nasty. Mamet wrote this play shortly after directing his first film, so he uses his black and edgy humour to thoroughly skewer Hollywood. I love its combination of baser instincts and a not-quite-absent moral compass." Michael Shamata on why he chose this play.
Cast
Vincent Gale (as Charlie Fox), Brian Markinson (as Bobby Gould) and Celine Stubel (as Karen)
Creative Team
David Mamet Playwright
Michael Shamata Director
Shawn Kerwin Set & Costume Designer
Michael Whitfield Lighting Designer
Tobin Stokes Sound Designer
Jennifer Swan Stage Manager
Sadie Fox Apprentice Stage Manager
Alix Reynolds Assistant Director (UVic)
Show Sponsors
Speed-the-Plow is generously supported by CIBC Wood Gundy - Blue Heron Advisory Group, Gabriel Ross, 98.5 The Ocean, KiSS 103.1, and The Magnolia Hotel.
40th Anniversary Season Sponsors
The Belfry is generously supported by The Times Colonist, Thrifty Foods, Helijet and Cook's Day Off.
Public Funders
The Belfry is funded by the Canada Council for the Arts, the Province of BC, BC Arts Council, CRD Arts Development and the City of Victoria.
Ticket Information
Tickets for Speed-the-Plow range from $23 to $48 (plus GST). Tickets are available at 250-385-6815 or online at tickets.belfry.bc.ca.
Rush Tickets
For our weekday evening performances we offer a limited number of last minute rush tickets at a discount. Rush tickets are:
> available at the Box Office 30 minutes before each evening performance (Tuesday to Friday),
> in person only,
> subject to availability, and
> 40% off our regular Zone 2 (Yellow Section) ticket prices.
Ticket Discounts
High School Students – 50%
University / College / Post Secondary Students – 25%
Seniors – 10%
Members of the Military – 10%
Groups (10 or more) – 10%
Performance Schedule (September 15 - October 11, 2015)
Tuesdays - Thursdays at 7:30 pm
Fridays and Saturdays at 8 pm
Wednesday Matinees at 1 pm (September 23, 30 and October 7)
Saturday Matinees at 4 pm
Sunday Matinees at 2 pm
-30-
Media Contact
Mark Dusseault
Director of Marketing & Communications, Belfry Theatre
250-385-6835 / pr@belfry.bc.ca
Mark Dusseault Marketing & Communications Director, Belfry Theatre