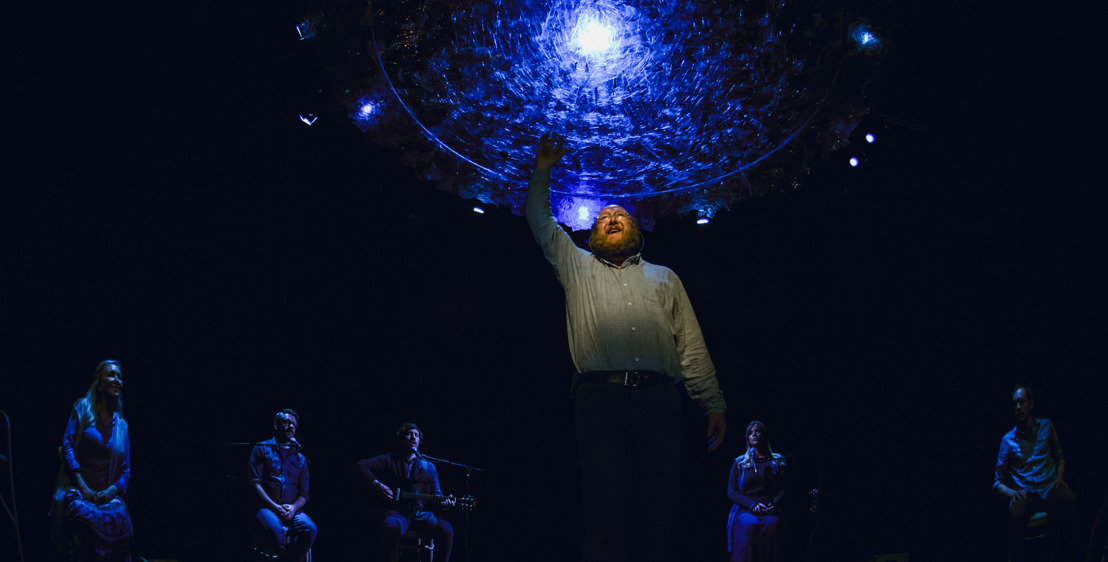 Spark 2020
A man who saves whales, a woman who relays messages for the deaf, a troupe who explains the Yukon and four artists who, for better or worse, return to the past.
Victoria, BC...In Romania, actor Mimi Branescu was nominated for a MTV Special Award for Best Kiss. He lost.
Mimi also wrote Insomniacs: The Far Side of the Accordion and that play, in a staged reading, will open the Belfry's 2020 SPARK Festival on March 7.
Eclectic as ever, this year's SPARK Festival will take attendees from Botswana to the Yukon, from the shores of Newfoundland to the city of Nagasaki. In between they can take in an all-ages dance party, a series of mini plays and a one-off performance created during the festival.
Anyone under 30 can get half-price tickets to Between Breaths, Busted Up: A Yukon Story, Destiny, USA and KISMET, things have changed, the four featured productions at SPARK. Regular tickets are $29 (plus BFF and GST).
Between Breaths (March 17 - 21) comes to Victoria from Artistic Fraud in Newfoundland. The show chronicles the inspiring life of Jon Lien, a man who saved more than 500 whales.
Featuring an evocative live score by Newfoundland's Juno-nominated The Once, Between Breaths examines what it means to find your passion and how to let it go.
Victoria actor, director and choreographer Jessica Hickman and Yukon writer Geneviève Doyon co-created Busted Up: A Yukon Story (March 10 - 14). Gathering over 60 interviews from eight Yukon communities, they have created a fascinating piece of verbatim theatre about what draws people to the north and why they stay.
As a teenager in Victoria, Laura Anne Harris participated in the Belfry Theatre's high school program, Belfry 101. She returns to the Belfry from Syracuse, New York, for her one-woman show, Destiny, USA (March 10 - 14).
Destiny, USA weaves together three separate stories: Laura's experience as a Relay operator for the deaf, dealing with her mother's terminal cancer while living far away, and her relationship with her American husband Chris.
The March 13 performance of Destiny, USA, will be ASL interpreted by Katt Campbell.
Ten years ago, Emelia Symington Fedy, Daryl King, Anita Rochon and Hazel Venzon travelled across the country to interview 100 people, aged 1 to 100. In KISMET, one to one hundred they wanted to know what life was all about.
Now, a decade later and in a very different place in life, Emelia, Daryl, Anita, and Hazel set out to find the surviving people and interview them again. What they discovered on the road is revealed in KISMET, things have changed, a complicated yet intimate portrait of change.
Full dates and times for all of the SPARK events are available at https://sparkfestival.ca/calendar/
Pay-What-You-Can Events
Presented by Puente Theatre, Worldplay is a mini-festival of readings within SPARK.
This year's reading are the aforementioned Insomniacs: The Far Side of the Accordion (Romania), Donald Molosi's Motswana: Africa, Dream Again (Botswana) and Burning Vision by Marie Clement.
Clement's play, Urban Tattoo, played at the Belfry in 1999 and her piece, Missing (a chamber opera with music by Brian Current), was presented by Pacific Opera Victoria this past November.
Free Events
Hootenanny - Brooke Maxwell and the Neighbourhood Hootenanny Dance Machine will be playing at our all-ages dance party on Sunday, March 8.
mini plays - Krystal Cook, K.P. Dennis, and Tobin Stokes are creating this year's mini plays (March 11 - 14 / March 18 - 21).
Play Readings - Actors Jan Wood and James Fagan Tait willl be reading their new play, Same Old, on Monday, March 9, and Michael Shamata and Paula Wing's adaptation of the New York Times Bestseller, Women In Clothes will have its reading on Monday, March 16.
UVic + Belfry New Play Cabaret - Actors & Directors from the UVic Theatre Department collaborate to bring to life scenes from plays-in-progress by graduate and undergraduate playwrights in UVic's Writing Program on Sunday, March 15.
Professional Development Workshop - Acting Shakespeare
This two-day workshop will be taught by Michael Elliott (Assistant Professor, UVic Theatre Department) and Michael Shamata (Artistic Director, Belfry Theatre).
The fee— which includes both days—Saturday & Sunday —is $80 for adults and $40 for students. To register or learn more, please call 250-385-6815.
SPARK 2020 Sponsors
The 2020 SPARK Festival is generously supported by The Government of Canada, Used.ca, CVTV and Caffe Fantastico.
Season Sponsors
The Belfry is generously supported by The Times Colonist and Helijet.
Public Funders
The Belfry is funded by the Canada Council for the Arts, Canadian Heritage, the Province of BC, BC Arts Council, CRD Arts Development and the City of Victoria.
Ticket Information
Anyone under 30 can get 50% off their tickets. Regular tickets for the SPARK Festival are $29 (plus GST and BFF). Tickets are available at 250-385-6815 or online at tickets.belfry.bc.ca. Prices are subject to change.
-30-
Mark Dusseault Marketing & Communications Director, Belfry Theatre