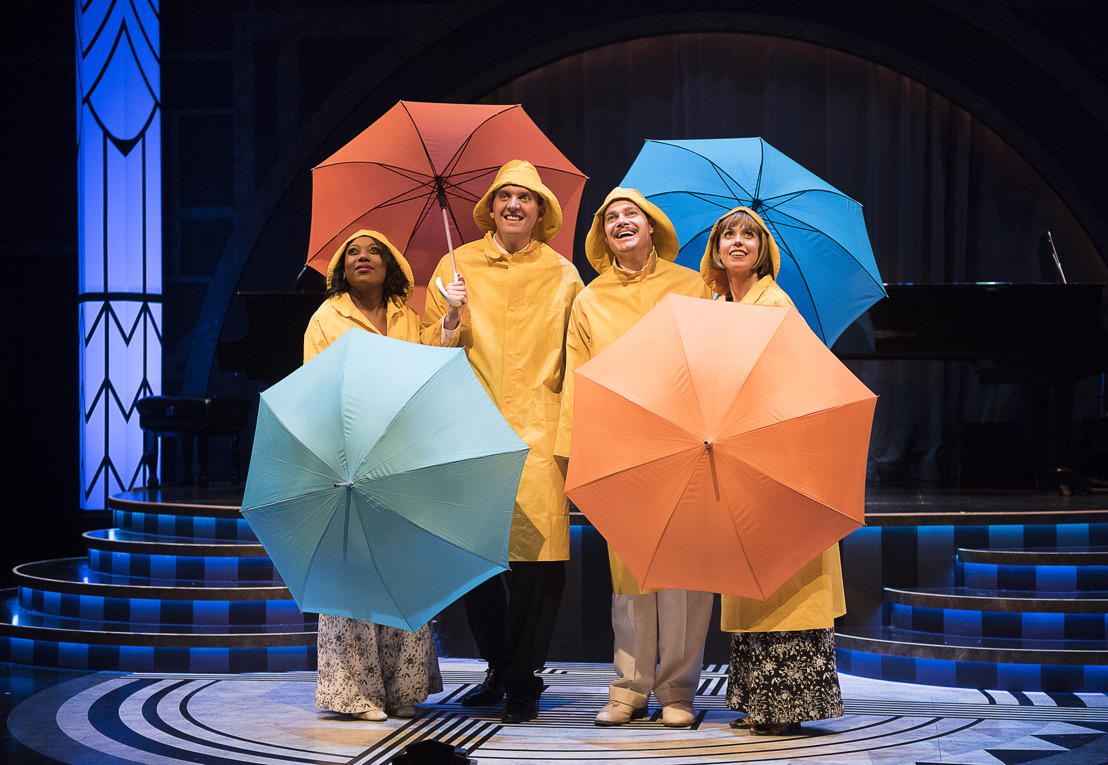 PUTTIN' ON THE RITZ – Held over to May 13
40th Anniversary Musical is held over to May 13
Wednesday, April 20, 2016 — Victoria, BC... the Belfry Theatre announced today that its 40th Anniversary production of Puttin' on the Ritz, featuring the words and music of Irving Berlin, will be held over to Friday, May 13.
Directed by Glynis Leyshon, Puttin' on the Ritz stars Lauren Bowler (from this season's musical Chelsea Hotel), Andrew MacDonald-Smith (Belfry debut), Katrina Reynolds (Belfry debut), and John Ullyatt (from last season's comedy, The Best Brothers).
Puttin' on the Ritz has exceeded expectations and this morning the company added four new performances to its current run. They are:
Tuesday, May 10 at 7:30 pm
Wednesday, May 11 at 7:30 pm
Thursday, May 12 at 7:30 pm
Friday, May 13 at 8 pm
Creative Team
Director Glynis Leyshon
Musical Director, Orchestrator and Keyboard Programming Nico Rhodes
Set and Costume Designer Cory Sincennes
Lighting Designer Guy Simard
Sound Designer Paul Tedeschini
Choreographer Jessica Hickman
Second Keys Brad L'Écuyer
Stage Manager Erin Voaklander
Assistant Stage Manager Christopher Sibbald
Audience Events during Puttin' on the Ritz
Afterplay
Following every evening performance of Puttin' on the Ritz (except Opening Night and Talkback Thursday), we'll host Afterplay. This facilitated discussion series offers patrons the opportunity to share their thoughts with fellow audience members after the show.
Talkback Thursday
Thursday, April 21
On the second Thursday performance of each show, we bring the backstage experience onstage. After the curtain call, some of the actors return to the stage to answer your questions and offer insight into the play you have just experienced. These Q & A sessions last 15 – 20 minutes.
Booksmack!
Monday, April 25 at 7:30 pm
The librarians are back! Fast, furious and fun, Greater Victoria Public librarians return to the Belfry for Booksmack. They will let their hair down, take off their glasses and speed review their favourite books.
Show Sponsors
Puttin' on the Ritz is generously supported by TD Canada Trust, Allison Piano and Boulevard Magazine.
40th Anniversary Season Sponsors
The Belfry is generously supported by The Times Colonist, Thrifty Foods, Cook's Day Off and Helijet.
Public Funders
The Belfry is funded by the Canada Council for the Arts, the Province of BC, BC Arts Council, CRD Arts Development and the City of Victoria.
Ticket Information
Tickets for Puttin' on the Ritz range from $23 to $60 (plus GST). Tickets are available at 250-385-6815 or online at tickets.belfry.bc.ca. Prices are subject to change.
Rush Tickets
For our weekday evening performances we offer a limited number of last minute rush tickets at a discount. Rush tickets are:
> available at the Box Office 30 minutes before each evening performance (Tuesday to Friday),
> in person only,
> subject to availability, and
> 40% off our regular Zone 2 (Yellow Section) ticket prices.
Ticket Discounts
High School Students – 50%
University / College / Post Secondary Students – 25%
Seniors – 10%
Members of the Military – 25%
Groups (10 or more) – 10%
Existing Performance Schedule (April 12 - May 8, 2016)
Tuesdays - Thursdays at 7:30 pm
Fridays and Saturdays at 8 pm
Wednesday Matinees at 1 pm (April 20, 27 and May 4)
Saturday Matinees at 4 pm
Sunday Matinees at 2 pm
-30-
Media Contact: Mark Dusseault / Director of Marketing & Communications / Belfry Theatre / 250-385-6835 / pr@belfry.bc.ca
Mark Dusseault Marketing & Communications Director, Belfry Theatre