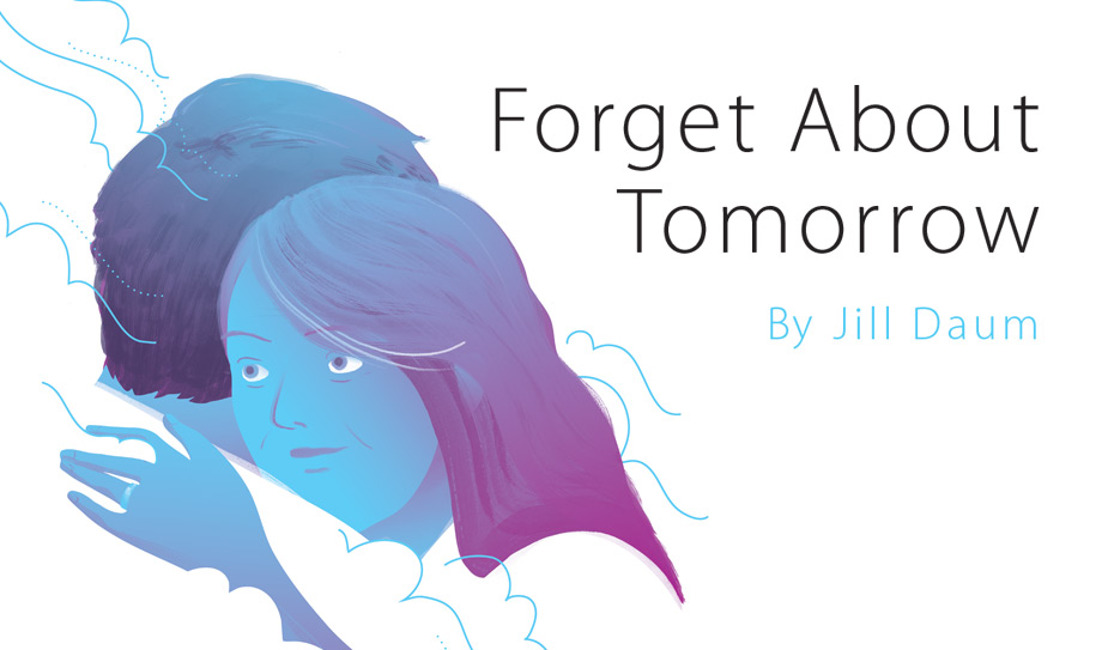 Forget About Tomorrow
Belfry premieres Jill Daum's play. Forget About Tomorrow features two songs by John Mann.
Friday, January 5, 2018 — Victoria, BC...From January 23 to February 18, 2018, the Belfry Theatre will premiere Forget About Tomorrow by Vancouver's Jill Daum. Daum, one of the co-creators of the international hit series Mom's the Word, created Forget About Tomorrow to examine the effects of early onset Alzheimer's on a family and how it changes our relationships with those we love.
Forget About Tomorrow features two new songs from Jill's husband, John Mann from Spirit of the West. John was diagnosed with early onset Alzheimer's in 2014.
"I began writing this play before my husband John publicly announced he had Alzheimer's. I was attending a workshop, led by the Wet Ink Collective, and was secretly writing scenes about the difficult aspects of my life. Constructing a story about a struggling reluctant caregiver became a pain-relieving release for me. Then John got caught up in the idea of creating a piece of theatre while we were processing his diagnosis. It was the first time in our relationship that we collaborated on a script. Working on the music was as cathartic for him as the words in the play were for me. "
Jill Daum, Playwright
Forget About Tomorrow is directed by the Belfry's Michael Shamata and features Jennifer Lines (The Real Thing - Belfry Theatre 2009), Craig Erickson (Belfry debut), Colleen Wheeler (The Valley - Belfry Theatre 2017), Aren Okemaysim (Belfry debut), Aleita Northey (Belfry debut), and Hrothgar Mathews (Belfry debut).
When Jane's husband Tom begins having trouble remembering things, she enters a world of denial. The play – at times extremely funny and always deeply moving – is Jane's long and reluctant journey to accepting her husband's fate, and the new role that she is expected to play.
The Belfry, under its new play development program, co-developed the play with the Arts Club Theatre over the past 2 ½ years, through a series of workshops and readings, working with Jill and several actors in this production.
Following its run in Victoria, Forget About Tomorrow runs at Vancouver's Arts Club Theatre (Goldcorp Stage at the BMO Theatre Centre) from March 1 - 25, 2018.
Creative Team
Jill Daum - Playwright
Michael Shamata - Director
Pam Johnson - Set & Costume Designer
Bryan Kenney - Lighting Designer
Candelario Andrade - Projection Designer
James Coomber - Sound Designer
John Mann - Songs
Caryn Fehr - Stage Manager
Christopher Sibbald - Assistant Stage Manager
Live & Outreach Events during Forget About Tomorrow
To prepare and engage our audiences further in our productions the Belfry produces a number of events and online resources.
B4Play
Saturday, January 20 at 11 am
Belfry Theatre, Studio A, 1291 Gladstone Avenue
Free Event. A live talk show hosted by CBC Radio's Gregor Craigie, with guests including Michael Shamata (director), Jill Daum (playwright), Dr. Marjorie Moulton (Executive Director of We Rage We Weep Alzheimer Foundation) and Dr. Stuart MacDonald (Associate Professor, UVic Department of Psychology).
B4Play is streamed live on Facebook. Our podcast of B4Play is available at belfry.bc.ca/podcasts.
Benefit Performance for The Actors Fund of Canada
Friday, January 26 at 8 pm
All single ticket sales for this performance will be donated to The AFC, which helps Canadian entertainment professionals maintain their health, dignity and ability to work.
Afterplay
Facilitated discussions – audience member to audience member – will follow every evening Mainstage performance of Forget About Tomorrow (except Opening Night and Talkback Thursday). These are a great opportunity to share your thoughts and hear fellow patrons' reactions to the production and the ideas it presents.
Talkback Thursday
Thursday, February 1
Meet some of the actors post-performance when they return to the stage to answer questions and provide insight into the play.
VocalEye Performance
Sunday, February 11 at 2 pm
For our patrons with low or no vision, we offer this VocalEye performance during Forget About Tomorrow. Trained Audio Describers provide descriptions of the visual elements of the show, allowing people with low vision to enjoy the theatrical experience without missing any of the details.
Podcasts
Listen and download the full interviews from each B4Play event, recent stories from The Flame, our storytelling series, and more at belfry.bc.ca/podcasts
Upstage Magazine
Our magazine provides insight into each Mainstage production, further enriching your experience. Upstage is available at most branches of the Greater Victoria Public Library, in the Lobby and on our website.
Show Sponsors
Forget About Tomorrow is generously supported by BMO Financial Group / Focus Magazine / 98.5 The Ocean / Jennifer Roberts Florist.
Season Sponsors
The Belfry is generously supported by The Times Colonist and Helijet.
Public Funders
The Belfry is funded by the Canada Council for the Arts, the Province of BC, BC Arts Council, CRD Arts Development and the City of Victoria.
Ticket Information
Tickets for Forget About Tomorrow range from $20 to $53 (plus GST). Tickets are available at 250-385-6815 or online at tickets.belfry.bc.ca. Prices are subject to change.
Rush Tickets
For our weekday evening performances we offer a limited number of last minute rush tickets at a discount. Rush tickets are:
> available at the Box Office 30 minutes before each evening performance (Tuesday to Friday),
> in person only,
> subject to availability, and
> 40% off our regular Zone 2 (Yellow Section) and Zone 3 (Red Section) ticket prices.
Ticket Discounts
High School Students – 50%
University / College / Post Secondary Students – 25%
Seniors – 10%
Members of the Military – 25%
Groups (10 or more) – 10%
Performance Schedule (January 23 to February 18)
Tuesdays - Thursdays at 7:30 pm
Fridays and Saturdays at 8 pm
Wednesday Matinees at 1 pm (January 31 and February 7 & 14)
Saturday Matinees at 4 pm
Sunday Matinees at 2 pm
-30-
Media Contact
Mark Dusseault
Director of Marketing & Communications
Belfry Theatre
250-385-6835
pr@belfry.bc.ca