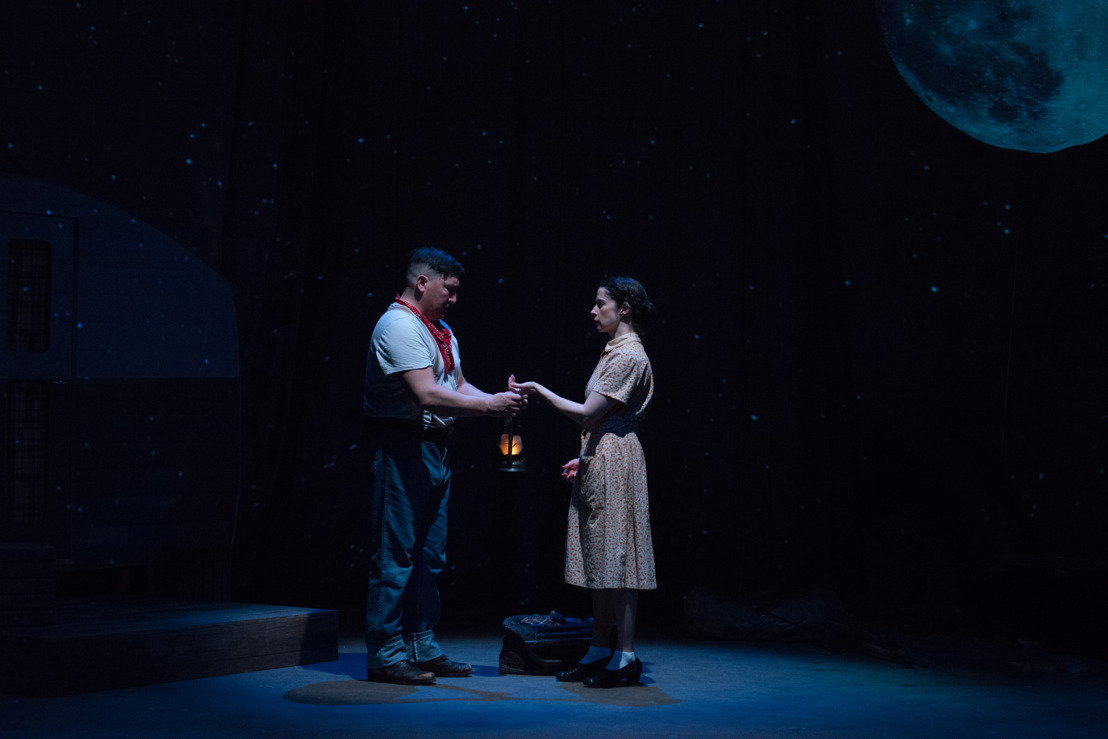 Belfry premieres Tara Beagan's play, The Ministry of Grace
"There's a flood of human warmth and compassion in anything Tara Beagan creates." —NOW MAGAZINE
Victoria, BC...From February 4 to March 1, 2020, the Belfry Theatre will premiere Tara Beagan's play, The Ministry of Grace. Directed by Tara Beagan, The Ministry of Grace stars PJ Prudat (Grace - Belfry debut), Sheldon Elter (Clem - Sheldon starred in last season's production of Bears), Stafford Perry (Brother Cain - Belfry debut), and Lara Schmitz (Lizzie-Mae - Belfry debut).
Based loosely (and fictionalized) on her maternal grandmother Mary who left the Nicola Valley in British Columbia for the cotton fields of California, The Ministry of Grace is a grand, sweeping story of friendship and redemption.
It's 1950 in the deserts of Southern California. Evangelist Brother Cain has a booming trade; his tent revival show moves from town to town, fleecing crowds desperate for something to believe in. When he discovers Mary, a Ntlaka'pamux woman from the Nicola Valley, reading the bible, he puts her onstage, renames her Grace, and displays her as a miracle: an Indian who can read.
WHY I CHOSE THIS PLAY
"It's like a sprawling Steinbeck novel – a real saga – of encountering hypocrisy and evil, while clinging to the beliefs that guide you. Produced by the Belfry and created by an all-Indigenous team, including designer Andy Moro and writer/director Tara Beagan, one of this country's leading playwrights.
As the Belfry strives to create more meaningful relationships with the Indigenous community—the nations on whose traditional territories we live and create, and our Indigenous theatre colleagues across the country—we are committed to holding space for Indigenous plays and events—led by Indigenous artists." - Michael Shamata
TARA BEAGAN - BIOGRAPHY
Born in Niitsitapi country, Tara Beagan is a proud Ntlaka'pamux and Irish "Canadian" halfbreed. She has written twenty-eight plays, also directs and is a Dora and Betty nominated. She served as Artistic Director of Native Earth Performing Arts from 2011-2013 and has been playwright-in-residence at the National Arts Centre and Cahoots Theatre. Currently, she co-helms ARTICLE 11 with her most cherished collaborator, favourite artist and true love, Andy Moro. ARTICLE 11, now based in Mohkintsis, has brought Indigenous Activist art works to the NAC, the ROM, Kingcome Inlet, Kamloops, Winnipeg, Saskatoon, Calgary's City Hall, the Edinburgh Fringe, Wellington, Aotearoa (NZ), Sydney, and Melbourne.
CREATIVE TEAM
Tara Beagan - Playwright / Director
Andy Moro - Set, Lighting, Props & Projection
Jeff Chief - Costume Designer
Allison Lynch - Composer & Sound Designer
Morgan Yamada - Fight Director
Meghan Speakman - Stage Manager
Becca Jorgensen - Assistant Stage Manager
---
---
LIVE EVENTS FOR THE MINISTRY OF GRACE
Our round-up of events happening at the theatre over the next four weeks.
B4PLAY
Saturday, February 1 at 11 am
BMO Studio Theatre, 1291 Gladstone Avenue
Free Event. A live talk show hosted by CBC Radio's Gregor Craigie and featuring interviews with Tara Beagan, PJ Prudat, and Dr. Erynne Gilpin (a Victoria-based researcher, PhD candidate and activist for Indigenous wellness, leadership and body governance) and Carey Newman (Creator of The Witness Blanket).
Talkback Thursday
Thursday, February 13
Meet the actors post-performance when they return to the stage to answer questions and provide insight into the play.
Afterplay
Facilitated discussion – audience member to audience member – will follow every evening performance of The Ministry of Grace (except Opening Night and Talkback Thursday). This is a great opportunity to share your reactions to the production and the ideas it presents and hear the reactions of your fellow patrons.
VocalEye - Live Described Performances
Sunday, February 23 at 2 pm
For patrons with low or no vision, we offer this VocalEye performance during The Ministry of Grace. Trained Audio Describers provide descriptions of the visual elements of the show, allowing people with low vision to enjoy the theatrical experience without missing any of the details.
Free Childcare Performances
Sunday, February 16 at 2 pm / Saturday, February 29 at 4 pm
Parents of children (between 3 - 10 years old) can see a show at the Belfry, and we'll take care of their children for free.
Children are cared for by a trained, professional Early Childcare Educator, just a short stroll from the theatre, and free of charge. Childcare space is at a premium, so we ask parents to reserve, at least 1 week prior to your chosen performance.
To learn more, please email us at hello@belfry.bc.ca, or call the box office at 250-385-6815 to reserve tickets and free childcare.
---
SHOW SPONSORS
The Ministry of Grace is generously supported by Used.ca, 98.5 The Ocean, TD Bank and Focus Magazine.
SEASON SPONSORS
The Belfry is generously supported by The Times Colonist and Helijet.
PUBLIC FUNDERS
The Belfry is funded by the Canada Council for the Arts, Canadian Heritage, the Province of BC, BC Arts Council, CRD Arts Development and the City of Victoria.
---
TICKET INFORMATION
Tickets for The Ministry of Grace range from $20 to $55 (plus GST). Tickets are available at 250-385-6815 or online at tickets.belfry.bc.ca. Prices are subject to change.
Tickets for The Ministry of Grace - https://tickets.belfry.bc.ca/TheatreManager/1/login?event=1086
Rush Tickets
For all performances, except Opening Night, we offer a limited number of last-minute rush tickets at a discount. Rush tickets are:
> available at the Box Office 30 minutes before each performance,
> in person only,
> subject to availability, and
> 50% off our regular Zone 2 (Yellow Section) and Zone 3 (Red Section) ticket prices.
Ticket Discounts
Students – 50%
Seniors – 10%
Members of the Military – 25%
Groups (10 or more) – 10%
PERFORMANCE SCHEDULE (February 4 - March 1)
Tuesdays - Thursdays at 7:30 pm
Fridays and Saturdays at 8 pm
Wednesday Matinees at 1 pm (February 12, 19, 26)
Saturday Matinees at 4 pm (Free Childcare offered on February 29)
Sunday Matinees at 2 pm (Free Childcare offered on February 16 / VocalEye offered on February 23)
-30-
Mark Dusseault Marketing & Communications Director, Belfry Theatre