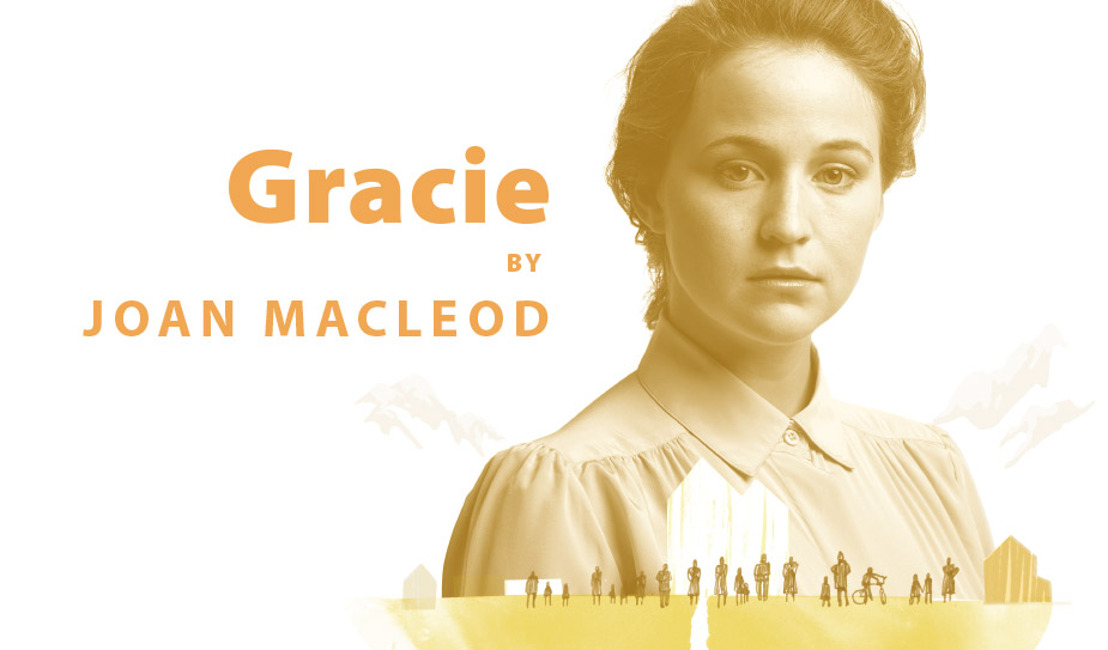 Belfry premieres Joan MacLeod's latest play, Gracie
Friday, January 6, 2017 — Victoria, BC...From January 20 to February 19 the Belfry Theatre will present Gracie, a brand new play from Victoria playwright Joan MacLeod. Directed by Alberta Theatre Project's Artistic Director Vanessa Porteous, Gracie stars Lili Beaudoin. Gracie was commissioned by the Belfry and is co-produced with Calgary's Alberta Theatre Projects.
Tucked away in a corner of our province is Bountiful, the largest polygamous community in Canada. With her deep insight and compassion, Joan takes us into young Gracie's world, where events transpire that lead her to question her beliefs.
"Like all of Joan's writing, Gracie abounds with empathy for every soul who struggles to live a good life. It is a gripping and moving story, and I am honoured to have it premiere on our stage.

Set in the polygamous community of Bountiful, BC, Gracie could easily have become a biased and ungenerous look at a way of life that many of us frown upon. In Joan MacLeod's remarkable hands, it is a story of human beings struggling with family and faith and difficult decisions." Michael Shamata, Belfry Artistic Director
The Belfry has had a long history with Joan MacLeod, producing seven of her eleven plays. Last season we presented The Valley, a play that explored the complicated and sometimes volatile relationship between law enforcement and people in the grip of mental illness.
Twenty five years ago, the Belfry's Studio space opened with Joan's play, The Hope Slide, inspired in part by the Doukhobors, a sect of Russian dissenters who settled in the Kootenay region of BC.
French Media - Director Vanessa Porteous is bilingual.
Creative Team
Joan MacLeod (Playwright)
Vanessa Porteous (Director)
Catherine Hahn (Designer)
Narda McCarroll (Lighting Designer)
Tobin Stokes (Composer & Sound Designer)
Jennifer Swan (Stage Manager)
Sadie Fox (Apprentice Stage Manager)
Live Events
Throughout Gracie we'll host a number of events that will deepen our audience's experience.
B4PLAY
Saturday, January 21 at 11 am
Belfry Theatre, Studio A, 1291 Gladstone Avenue
Free Event. Join us in Studio A for a live talk show hosted by CBC Radio's Gregor Craigie, featuring Joan MacLeod, Vanessa Porteous, and Marita Dachsel.
AFTERPLAY
Facilitated discussions – audience member to audience member – following every evening Mainstage performance of Gracie (except Opening Night and Talkback Thursday). These are a great opportunity to share your thoughts and hear how fellow patrons reacted to the show.
TALKBACK THURSDAY
Thursday, February 2
Meet actor Lili Beaudoin post-performance when she returns to the stage to answer questions and provide insight into the play.
BOOKSMACK
Monday, February 6 at 7:30 pm
Librarians go head-to-head as they race against the clock to speed review their favourite books in these fun and competitive events, co-presented with the Greater Victoria Public Library.
VOCALEYE
Sunday, February 12 at 2 pm
For our patrons with low or no vision, we'll offer a VocalEye performance during Gracie. Trained Audio Describers provide descriptions of the visual elements of the show, allowing people with low vision to enjoy the theatrical experience without missing any of the details.
Show Sponsors
Gracie is generously supported by Caffe Fantastico, Jennifer Roberts Florist, The Koerner Foundation and 98.5 The Ocean.
Season Sponsors
The Belfry is generously supported by The Times Colonist, Thrifty Foods, Cook's Day Off and Helijet.
Public Funders
The Belfry is funded by the Canada Council for the Arts, the Province of BC, BC Arts Council, CRD Arts Development and the City of Victoria.
Ticket Information
Tickets for Gracie range from $20 to $53 (plus GST). Tickets are available at 250-385-6815 or online at tickets.belfry.bc.ca. Prices are subject to change.
Rush Tickets
For our weekday evening performances we offer a limited number of last minute rush tickets at a discount. Rush tickets are:
> available at the Box Office 30 minutes before each evening performance (Tuesday to Friday),
> in person only,
> subject to availability, and
> 40% off our regular Zone 2 (Yellow Section) ticket prices.

Ticket Discounts
High School Students – 50%
University / College / Post Secondary Students – 25%
Seniors – 10%
Members of the Military – 25%
Groups (10 or more) – 10%
Performance Schedule (January 20 - February 19, 2017)
Tuesdays - Thursdays at 7:30 pm
Fridays and Saturdays at 8 pm
Wednesday Matinees at 1 pm (February 1, 8 & 15)
Saturday Matinees at 4 pm (January 28, February 4, 11, 18)
Sunday Matinees at 2 pm
Starting Friday, January 20 there will be five previews for this new play. Monday nights are dark and Opening Night is Thursday, January 26.
-30-
Media Contact
Mark Dusseault
Director of Marketing & Communications
Belfry Theatre
250-385-6835
pr@belfry.bc.ca
Mark Dusseault Marketing & Communications Director, Belfry Theatre