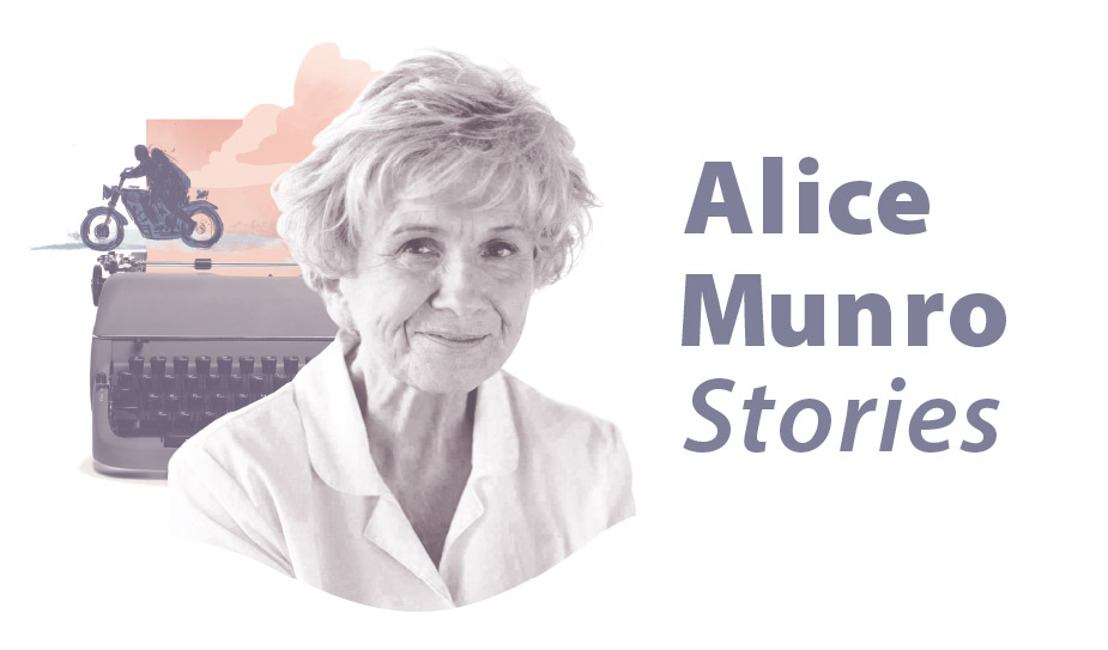 Belfry premieres Alice Munro Stories - in an all new theatrical format, word for word.
"All you need to win the Nobel Prize in literature is to write brilliantly for a lifetime." Toronto Star
Wednesday, March 29, 2017 — Victoria, BC...From April 18 to May 14, the Belfry Theatre will present Alice Munro Stories - featuring two of Munro's celebrated short stories - Differently (from Friend of My Youth, 1990) and Save the Reaper (from The Love of a Good Woman, 1998) - in an all new theatrical format, word for word.
Using each story word for word as the script, director Anita Rochon and actors Caroline Gillis, Arggy Jenati, Gerry Mackay, Michael Scholar Jr., and Jenny Wasko-Paterson will merge theatre and the short story into a unique theatre adventure.
"...each of these stories contains a novel's worth of depth and secrecy and humanity. Each story reveals, through perfect specificity, a universal feeling that transcends the borders of both geography and genre." (on The Love of a Good Woman) The Guardian
Last year, director Anita Rochon and the Belfry's Michael Shamata and Ivan Habel travelled to San Francisco to meet with JoAnne Winter and Susan Harloe from Word for Word. Started in 1993, Word for Word creates theatre using only the words as they were written by the original author.
With Alice Munro's longtime editor and publisher, Douglas Gibson, Michael and Anita reread dozens of her short stories to come up with two that would translate well in this new theatrical format.
Director Anita Rochon will talk through her experience in creating this new piece for audiences at the Belfry's B4Play event on April 15 (see below for more details).
Arggy Jenati and Michael Scholar Jr. will be making their Belfry debuts in Alice Munro Stories. Caroline Gillis starred in the Belfry / National Arts Centre co-production of And Slowly Beauty…, Gerry Mackay has starred in A Christmas Carol, Equivocation and Jitters, and Jenny Wasko-Paterson starred in Mom's the Word and Homechild.
Anita Rochon's previous credits at the Belfry include How to Disappear Completely, Through the Gaze of a Navel, and KISMET one to one hundred.
French Media - Director Anita Rochon is bilingual.
Creative Team
Anita Rochon (Director)
Peter Hartwell (Designer)
Alan Brodie (Lighting Designer)
Antoine Bédard (Sound Designer)
Jennifer Swan (Stage Manager)
Emily Mewett (Assistant Stage Manager)
Live Events
Throughout Alice Munro Stories we'll host a number of events that will deepen the audience's experience.
B4PLAY
Saturday, April 15 at 11 am
Belfry Theatre, Studio A, 1291 Gladstone Avenue
Free Event. Join us in Studio A for a live talk show hosted by CBC Radio's Gregor Craigie, featuring director Anita Rochon, actor Jennifer Wasko-Patterson, Dr Jamie Dopp (from UVic's English Dept) and Sheila Munro (yes, Alice's daughter).
AFTERPLAY
Facilitated discussions – audience member to audience member – will follow every evening Mainstage performance of Alice Munro Stories (except Opening Night and Talkback Thursday). These are a great opportunity to share your thoughts and hear how fellow patrons reacted to the show.
TALKBACK THURSDAY
Thursday, April 27
Meet the actors post-performance when they return to the stage to answer questions and provide insight into the play.
BOOKSMACK!
Monday, April 24 at 7:30 pm
Librarians go head-to-head as they race against the clock to speed review their favourite books in these fun and competitive events, co-presented with the Greater Victoria Public Library.
VOCALEYE
Sunday, May 7 at 2 pm
For our patrons with low or no vision, we'll offer a VocalEye performance during Alice Munro Stories. Trained Audio Describers provide descriptions of the visual elements of the show, allowing people with low vision to enjoy the theatrical experience without missing any of the details.
Show Sponsors
Alice Munro Stories is generously supported by CIBC Wood Gundy - Blue Heron Advisory Group, Focus Magazine and the Broadmead Hearing Clinic.
Season Sponsors
The Belfry is generously supported by The Times Colonist, Thrifty Foods, Cook's Day Off and Helijet.
Public Funders
The Belfry is funded by the Canada Council for the Arts, the Province of BC, BC Arts Council, CRD Arts Development and the City of Victoria.
Ticket Information
Tickets for Alice Munro Stories range from $20 to $53 (plus GST). Tickets are available at 250-385-6815 or online at tickets.belfry.bc.ca. Prices are subject to change.
Rush Tickets
For our weekday evening performances we offer a limited number of last minute rush tickets at a discount. Rush tickets are:
> available at the Box Office 30 minutes before each evening performance (Tuesday to Friday),
> in person only,
> subject to availability, and
> 40% off our regular Zone 2 (Yellow Section) and Zone 3 (Red Section) ticket prices.
Ticket Discounts
High School Students – 50%
University / College / Post Secondary Students – 25%
Seniors – 10%
Members of the Military – 25%
Groups (10 or more) – 10%
Performance Schedule (April 18 - May 14, 2017)
Tuesdays - Thursdays at 7:30 pm
Fridays and Saturdays at 8 pm
Wednesday Matinees at 1 pm (April 26, May 3 & 10)
Saturday Matinees at 4 pm
Sunday Matinees at 2 pm
-30-
Media Contact
Mark Dusseault
Director of Marketing & Communications
Belfry Theatre
250-385-6835
pr@belfry.bc.ca
Mark Dusseault Director of Marketing & Communications, Belfry Theatre