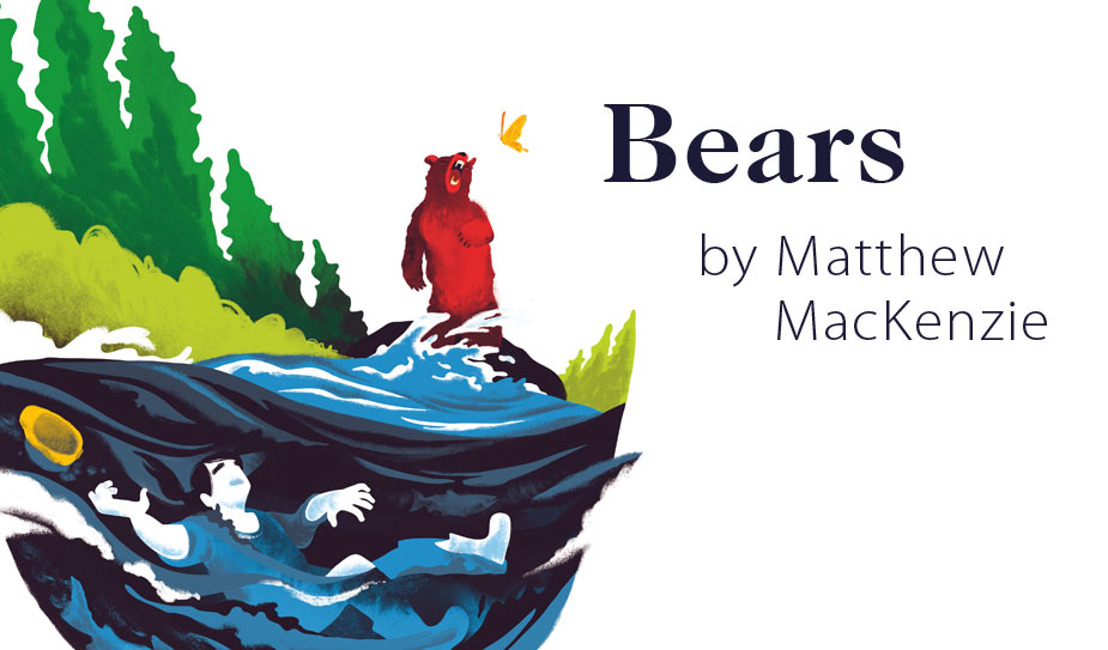 Bears
Bears won the 2018 Dora Awards (Toronto) for Outstanding New Play and Outstanding Production and the Elizabeth Sterling Haynes Awards (Edmonton) for Outstanding Musical Score and Outstanding Choreography.
Monday, January 14, 2019 — Victoria, BC...From January 29 - February 24, 2019, the Belfry Theatre will present the multi-award-winning production of Bears by Matthew MacKenzie. Written and directed by MacKenzie, Bears is an Alberta Aboriginal Performing Arts and Punctuate! Theatre (Edmonton) production.
"Bears advertises itself as an 'unapologetically political' play. And it is that…it's also very funny, theatrically fresh and delightful..." Vancouver Plays
Ambitious and theatrically innovative, Bears is an Indigenous-led new Canadian play. Told through dramatic storytelling, an integrated seven-person chorus, and an evocative electronic soundscape and projection design, Bears is not just a play: it is an emotional, empathetic performance experience.
"It's rare enough to find original theatre that is so definably of this place. Theatre that harnesses the divergent resources of multi-disciplinary artists so creatively to mount an argument is rarer still. You can't really afford to miss Bears." Edmonton Journal
The prime suspect in a workplace incident and pursued by the RCMP, Floyd has to get out of town fast. Heading through the Rockies for the Pacific, along the route of the Trans Mountain Pipeline, through the forests and along the rivers, he experiences changes – inside and out. Floyd's journey is assisted by the wildlife he encounters – especially the bears.
"a combination of ingenuity, humour and the fire of political commitment." Toronto Star
Bears stars Sheldon Elter as Floyd and Tracey Nepinak (from the Belfry's production of The Rez Sisters) as his mother. They are joined onstage by dancers Shammy Belmore, Karina Cox, Skye Demas, Lara Ebata, Zoë Glassman, Kendra Shorter, and Gianna Vacirca.
"It's a blend of chase story, identity search, ode to Indigenous spirituality, dark comedy, interdisciplinary spectacle, and eco-activist plea" The Georgia Straight
"I'd never seen a piece that speaks to issues facing Canada's Indigenous peoples as effectively and beautifully as Bears does." Jerry Saddleback, Cree Elder and Dean of Cultural Studies at Maskwacis College.

About Alberta Aboriginal Performing Arts (AAPA)
AAPA is an Aboriginal theatre and performing arts organization based in Edmonton, Alberta. Their mandate is to nurture and cultivate an Aboriginal arts scene in Edmonton by creating opportunities for Aboriginal artists, writers and performers to present their work to the public. They produce events that bring artists of multiple disciplines and Aboriginal traditions together. Their goal is to encourage and inspire collaborations in art and performance in both contemporary and traditional styles and to bring these creations to audiences across Alberta. AAPA provides audiences of all backgrounds a chance to experience challenging artistic works that speak from a unique Aboriginal perspective.
About Punctuate! Theatre
Punctuate! Theatre is a Sterling Award-winning professional theatre company based in Edmonton Alberta. They are dedicated to creating diverse, multidisciplinary dance and theatre productions.

Creative Team
Matthew MacKenzie - Playwright / Director
Monica Dottor - Choreographer
Noor Dean Phatcat Musani - Electronic Composition
T. Erin Gruber - Environmental Design
Brianna Kolybaba and Monica Dottor - Costume Design
Patrick Lundeen - Associate Director
Madi Blondale - Assistant Environmental Designer
Erin Voaklander - Stage Manager
Trent Crosby - Technical Director
Christine Sokaymoh Frederick - Artistic Producer
Live Events in January & February
B4PLAY
Saturday, January 26 at 11 am
Belfry Studio Theatre, 1291 Gladstone Avenue
Free Event. A live talk show hosted by CBC Radio's Gregor Craigie and featuring interviews with playwright and director Matthew MacKenzie and special guests.
Talkback Thursday
Thursday, February 7
Meet the actors post-performance when they return to the stage to answer questions and provide insight into the play.
Afterplay
Facilitated discussions – audience member to audience member – will follow every evening performance of Bears (except Opening Night and Talkback Thursday). These are a great opportunity to share your thoughts and hear fellow patrons' reactions to the production and the ideas it presents.
Fluevog Valentine's Fundraiser
Thursday, February 14 at 6:30 pm
This Valentine's Day, we're hosting an exclusive Belfry Theatre shopping night at Fluevog Shoes. That evening, if you purchase a pair of shoes or any accessories, 50% of your sale will go to the Belfry.
To encourage you to linger amongst the beautiful shoes, we'll have a host of activities including wine tastings, door prizes and some nibblies too.
This is a free event, but if you (and a friend or group of friends) would like to attend, please drop us a line at development@belfry.bc.ca so that we have enough goodies on hand.
VocalEye
Sunday, February 17 at 2 pm
For patrons with low or no vision, we offer this VocalEye performance during Bears. Trained Audio Describers provide descriptions of the visual elements of the show, allowing people with low vision to enjoy the theatrical experience with a sense of the visual details.
Show Sponsors
Bears is generously supported by Focus Magazine.
Season Sponsors
The Belfry is generously supported by The Times Colonist and Helijet.
Public Funders
The Belfry is funded by the Canada Council for the Arts, Canadian Heritage, the Province of BC, BC Arts Council, CRD Arts Development and the City of Victoria.
Ticket Information
Tickets for Bears range from $20 to $55 (plus GST). Tickets are available at 250-385-6815 or online at tickets.belfry.bc.ca. Prices are subject to change.
Tickets for Bears - https://tickets.belfry.bc.ca/TheatreManager/1/tmEvent/tmEvent1020.html
Rush Tickets
For our weekday evening performances we offer a limited number of last minute rush tickets at a discount. Rush tickets are:
> available at the Box Office 30 minutes before each evening performance (Tuesday to Friday),
> in person only,
> subject to availability, and
> 50% off our regular Zone 2 (Yellow Section) and Zone 3 (Red Section) ticket prices.
Ticket Discounts
Students – 50%
Seniors – 10%
Members of the Military – 25%
Groups (10 or more) – 10%
Performance Schedule (January 29 - February 24)
Tuesdays - Thursdays at 7:30 pm
Fridays and Saturdays at 8 pm
Wednesday Matinees at 1 pm (February 6, 13 & 20)
Saturday Matinees at 4 pm
Sunday Matinees at 2 pm (VocalEye offered on February 17)
-30-
Media Contact
Mark Dusseault
Director of Marketing & Communications
Belfry Theatre
250-385-6835
pr@belfry.bc.ca
Mark Dusseault Marketing & Communications Director, Belfry Theatre