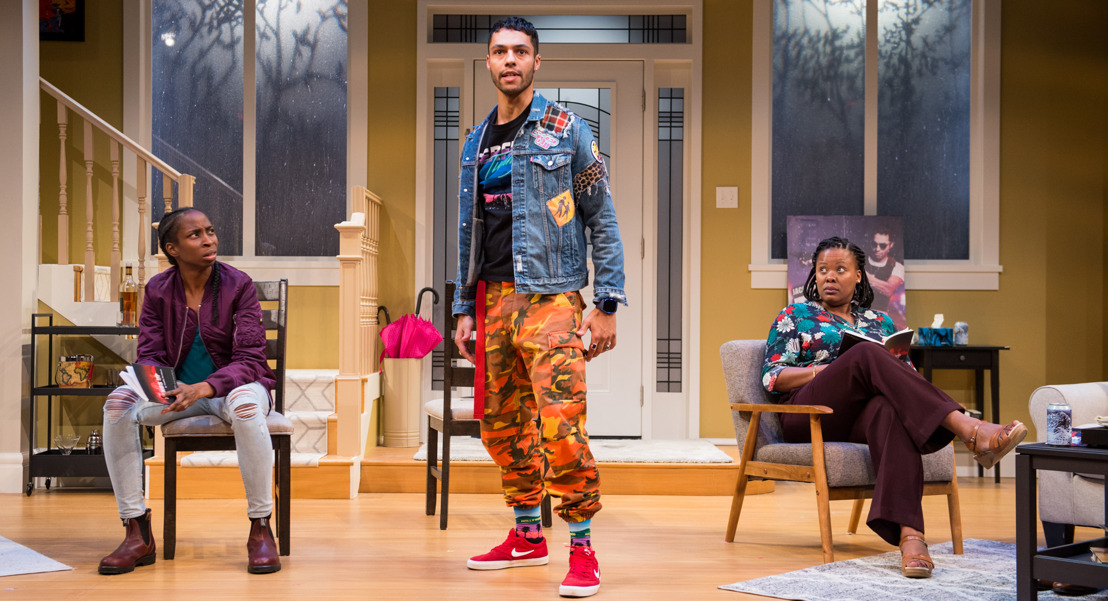 Bang Bang
★ ★ ★ ★ "Sandler stirs the pot beautifully...one of the funniest things to hit local stages in ages" – Winnipeg Free Press
Friday, October 11, 2019 — Victoria, BC...From October 29 to November 24, 2019, the Belfry Theatre, in a co-production with the Royal Manitoba Theatre Centre (RMTC) will present Kat Sandler's comedy, Bang Bang. Directed by RMTC's Artistic Director Kelly Thornton, Bang Bang stars Sébastien Heins (Jackie Savage), Tom Keenan (Tim Bernbaum), Beverly Ndukwu (Lila Hines), Alex Poch-Goldin (Tony Cappello) and Warona Setshwaelo (Karen Hines).
"Explosive drama with lots of laughs…" —NOW Magazine
Lila is a black police officer who shot a young unarmed black man. She's been on leave from the police force, moved back in with her mother, Karen, and is drinking beer for breakfast. Tim is a white playwright who used Lila's incident as a "jumping off point" for his hit play. Now that play is being made into a Hollywood movie — without Lila's knowledge.
"…so damn funny…" Toronto Star
Desperate to save face and avoid a media backlash, Tim pays a visit to Lila and her mother to pave the way for the movie's lead, former child star Jackie Savage, who's keen to get the role right and get his career back on track.
Soon Jackie, his exasperating bodyguard Tony Cappello, and Karen are dragged into the fight, leading to an epic metatheatrical standoff in a living room play about a living room play about gun violence, police, art, and who gets to tell your story?
"Smart and funny…" —CBC ARTS
Filled with tension and comedy, Kat Sandler's thought-provoking take on race and culture will have us all questioning the meaning behind the phrase "based on a true story."
Kat Sandler is a playwright, director, screenwriter and Artistic Director of Theatre Brouhaha in Toronto. She has staged 16 of her original plays in the last eight years, including the concurrent double bill of The Party and The Candidate this past April, where the same cast raced back and forth between spaces at the Citadel Theatre to perform in two simultaneous plays each night. Her play Mustard (Tarragon Theatre) won the Dora Award for Best New Play, and Bang Bang was nominated for the same award. She was the recipient of NOW Magazine's Audience Choice Awards for Best Director and Best Playwright, the SummerWorks Spotlight Award, and was the winner of the Austin Film Fest Award for Best Fiction Podcast for How to Build a Fire. Her play, YAGA, opened two weeks ago at the Tarragon Theatre in Toronto. Kat is a graduate of the Queen's University Drama Program.
WHY I CHOSE THIS PLAY
It's a super-funny sitcom-style comedy – allowing us to laugh at serious issues and timely themes – including racial profiling, voice appropriation, ego, selfishness – and the sometimes incomprehensible world of the theatre! —Michael Shamata
Creative Team
Kat Sandler - Playwright
Kelly Thornton - Director
Adam Parboosingh - Set Designer
Joseph Abetria - Costume Designer
Scott Henderson - Lighting Designer
Brian Linds - Sound Designer
Jacquie Loewen - Fight Director
Dave Brown - Firearms Consultant
Audrey Dwyer - Consulting Director
Eric Rae - Apprentice Director
Jennifer Swan - Stage Manager
Zahra Larche - Assistant Stage Manager
Live Events in October and November
B4PLAY
Saturday, October 26 at 11 am
BMO Studio Theatre, 1291 Gladstone Avenue
Free Event. A live talk show hosted by CBC Radio's Gregor Craigie and featuring interviews with Sébastien Heins (Actor), Kelly Thornton (Director), Dr. Moussa Magassa (Human Rights Education Advisor, University of Victoria / Co-chair for Greater Victoria Police Diversity Advisory Committee) and Constable Meighan de Pass (Media Relations Officer, Sidney/North Saanich RCMP)
Talkback Thursday
Thursday, November 7
Meet the actors post-performance when they return to the stage to answer questions and provide insight into the play.
Afterplay
Facilitated discussions – audience member to audience member – will follow every evening performance of Bang Bang (except Opening Night and Talkback Thursday). These are a great opportunity to share your thoughts and hear fellow patrons' reactions to the production and the ideas it presents.
VocalEye
Sunday, November 17 at 2 pm
For patrons with low or no vision, we offer this VocalEye performance during Bang Bang. Trained Audio Describers provide descriptions of the visual elements of the show, allowing people with low vision to enjoy the theatrical experience without missing any of the details.
Free Childcare Performances
Sunday, November 10 at 2 pm / Saturday, November 23 at 4 pm
Parents of children (between 3 - 10 years old) can see a show at the Belfry, and we'll take care of your children for free.
Children are cared for by a trained, professional Early Childcare Educator, just a short stroll from the theatre, and free of charge. Childcare space is at a premium so we ask parents to reserve in advance, at least 1 week prior to your chosen performance.
To learn more, please email us at hello@belfry.bc.ca, or call the box office at 250-385-6815 to reserve tickets and free childcare.
-----
Show Sponsors
Bang Bang is generously supported by BMO Financial Group, Chateau Victoria and Virgin Radio 107.3
Season Sponsors
The Belfry is generously supported by The Times Colonist and Helijet.
Public Funders
The Belfry is funded by the Canada Council for the Arts, Canadian Heritage, the Province of BC, BC Arts Council, CRD Arts Development and the City of Victoria.
-----
Ticket Information
Tickets for Bang Bang range from $20 to $55 (plus GST). Tickets are available at 250-385-6815 or online at tickets.belfry.bc.ca. Prices are subject to change.
Tickets for Bang Bang - https://tickets.belfry.bc.ca/TheatreManager/1/login?event=1086

Rush Tickets
For all performances, except Opening Night, we offer a limited number of last minute rush tickets at a discount. Rush tickets are:
> available at the Box Office 30 minutes before each performance,
> in person only,
> subject to availability, and
> 50% off our regular Zone 2 (Yellow Section) and Zone 3 (Red Section) ticket prices.

Ticket Discounts
Students – 50%
Seniors – 10%
Members of the Military – 25%
Groups (10 or more) – 10%
Performance Schedule (October 29 - November 24)
Tuesdays - Thursdays at 7:30 pm
Fridays and Saturdays at 8 pm
Wednesday Matinees at 1 pm (November 6, 13, 20)
Saturday Matinees at 4 pm (Free Childcare offered on November 23)
Sunday Matinees at 2 pm (Free Childcare offered on November 10 / VocalEye offered on November 17)
-30-
Media Contact
Mark Dusseault
Director of Marketing & Communications
Belfry Theatre
250-385-6835
pr@belfry.bc.ca
Mark Dusseault Marketing & Communications Director, Belfry Theatre