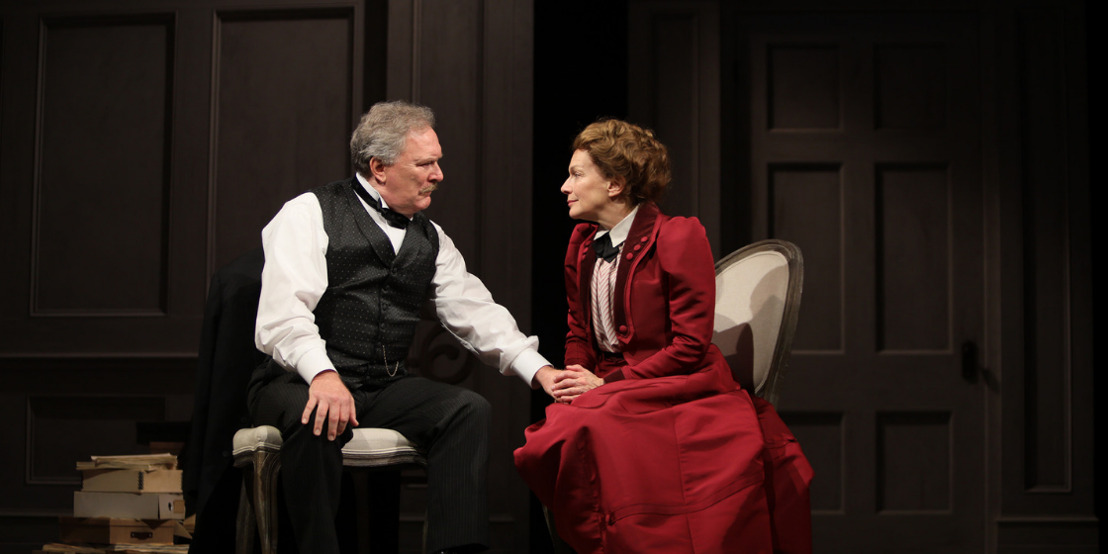 A Doll's House, Part 2
Martha Burns, Benedict Campbell, Barbara Gordon, and Alice Snaden star in the Canadian premiere of Lucas Hnath's A Doll's House, Part 2.
Wednesday, August 29, 2018 — Victoria, BC...From September 16 to October 14, 2018, the Belfry Theatre will present the Canadian premiere of A Doll's House, Part 2 by Lucas Hnath. Nominated for the Tony Award for Best Play in New York last year, A Doll's House, Part 2 is directed by Michael Shamata and stars Martha Burns (Slings & Arrows), Benedict Campbell, Barbara Gordon, and Alice Snaden.
"Smart, funny and utterly engrossing…" The New York Times
In 1879, when Nora left her husband and children at the end of Henrik Ibsen's A Doll's House, her door slam reverberated around the world, creating a storm of controversy; much of it focussed on Ibsen's clarion call for gender equality.
Hnath's stunning new drama begins with a knock on that same door 15 years later, as Nora returns with an urgent request, confronting husband, daughter and the woman who raised her children.
".. endlessly stimulating…stirs the heart even as it invigorates the mind…" Broadway News
A Doll's House, Part 2 premiered at South Coast Repertory in Costa Mesa, California in April 2017. Two weeks later, a separate production opened on Broadway at the John Golden Theatre. The play was nominated for a Tony Award and actor Laurie Metcalf won the Tony Award for her performance as Nora.
Why I Chose This Play - "It is simply stunning! The intellectual excitement is palpable, as arguments around gender, marriage and family are turned upside down and inside out." Michael Shamata
Hnath's plays include The Christians, Hillary and Clinton, Red Speedo, A Public Reading of an Unproduced Screenplay About the Death of Walt Disney, Isaac's Eye and Death Tax. His work has been produced at Mark Taper Forum, New York Theatre Workshop, Royal Court Theatre and Soho Rep. He is the recipient the Kesselring Prize, a Guggenheim Fellowship, and an Outer Critics Circle Award for Best New Play and an Obie Award, both for The Christians.
Cast
Martha Burns (Nora)
Benedict Campbell (Torvald)
Barbara Gordon (Anne Marie)
Alice Snaden (Emmy)
Creative Team
Michael Shamata (Director)
Christina Poddubiuk (Designer)
Kevin Fraser (Lighting Designer)
Tobin Stokes (Composer & Sound Designer)
Jennifer Swan (Stage Manager)
Carissa Sams (Assistant Stage Manager)
Hilary Britton (Foster Assistant Lighting Designer*)
*Hilary Britton-Foster's participation made possible through the Belfry's Emerging Artist Enhancement Program funded by the RBC Emerging Artists Project.
--
Live & Outreach Events
B4PLAY
Saturday, September 15 at 11 am
Belfry Studio Theatre, 1291 Gladstone Avenue
Free Event. A live talk show hosted by CBC Radio's Gregor Craigie and featuring Michael Shamata, Martha Burns (Award-winning actor from TV's Slings & Arrows), Dr Peyman Vahabzadeh (who uses Ibsen's A Doll's House as a case study in his Sociology course) and Dr Lynne Marks (UVic professor in the department of History, whose work focuses on subjects including Canadian history and women's and gender history).
Podcasts
Our podcasts of B4Play and The Flame are available at belfry.bc.ca/podcasts.
Free Childcare Performance
Saturday, October 13 at 4 pm
To help young parents experience the Belfry, we offer inexpensive tickets and free childcare (for children aged 3 – 10) for young families on select weekend afternoons. Children are cared for by a trained, professional Early Childhood Educator (ECE). Childcare space must be reserved in advance, at least 1 week prior to your chosen performance. To learn more, please email us at hello@belfry.bc.ca, or call the box office at 250-385-6815 to reserve tickets and free childcare.
Afterplay
Facilitated discussions – audience member to audience member – will follow every evening performance of A Doll's House, Part 2 (except Opening Night and Talkback Thursday). These are a great opportunity to share your thoughts and hear fellow patrons' reactions to the production and the ideas it presents.
Talkback Thursday
Thursday, September 27
Meet the actors post-performance when they return to the stage to answer questions and provide insight into the play.
VocalEye
Sunday, October 7 at 2 pm
For patrons with low or no vision, we offer this VocalEye performance during A Doll's House, Part 2. Trained Audio Describers provide descriptions of the visual elements of the show, allowing people with low vision to enjoy the theatrical experience without missing any of the details.
--
Show Sponsors
A Doll's House, Part 2 is generously supported by TD Bank Group and Chateau Victoria.
Season Sponsors
The Belfry is generously supported by The Times Colonist and Helijet.
Public Funders
The Belfry is funded by the Canada Council for the Arts, Canadian Heritage, the Province of BC, BC Arts Council, CRD Arts Development and the City of Victoria.
--
Ticket Information

Tickets for A Doll's House, Part 2 range from $20 to $55 (plus GST). Tickets are available at 250-385-6815 or online at tickets.belfry.bc.ca. Prices are subject to change.
Rush Tickets
For our weekday evening performances we offer a limited number of last minute rush tickets at a discount. Rush tickets are:
> available at the Box Office 30 minutes before each evening performance (Tuesday to Friday),
> in person only,
> subject to availability, and
> 50% off our regular Zone 2 (Yellow Section) and Zone 3 (Red Section) ticket prices.
Ticket Discounts
Students – 50%
Seniors – 10%
Members of the Military – 25%
Groups (10 or more) – 10%
Performance Schedule (September 16 - October 14)
Sunday, September 16 at 2 pm - Special Preview
Tuesdays - Thursdays at 7:30 pm
Fridays and Saturdays at 8 pm
Wednesday Matinees at 1 pm (September 26, October 3 & 10)
Saturday Matinees at 4 pm (Free Childcare offered on October 13)
Sunday Matinees at 2 pm (VocalEye offered on October 7)
-30-
Media Contact
Mark Dusseault
Director of Marketing & Communications
Belfry Theatre
250-385-6835
pr@belfry.bc.ca
Mark Dusseault Marketing & Communications Director, Belfry Theatre