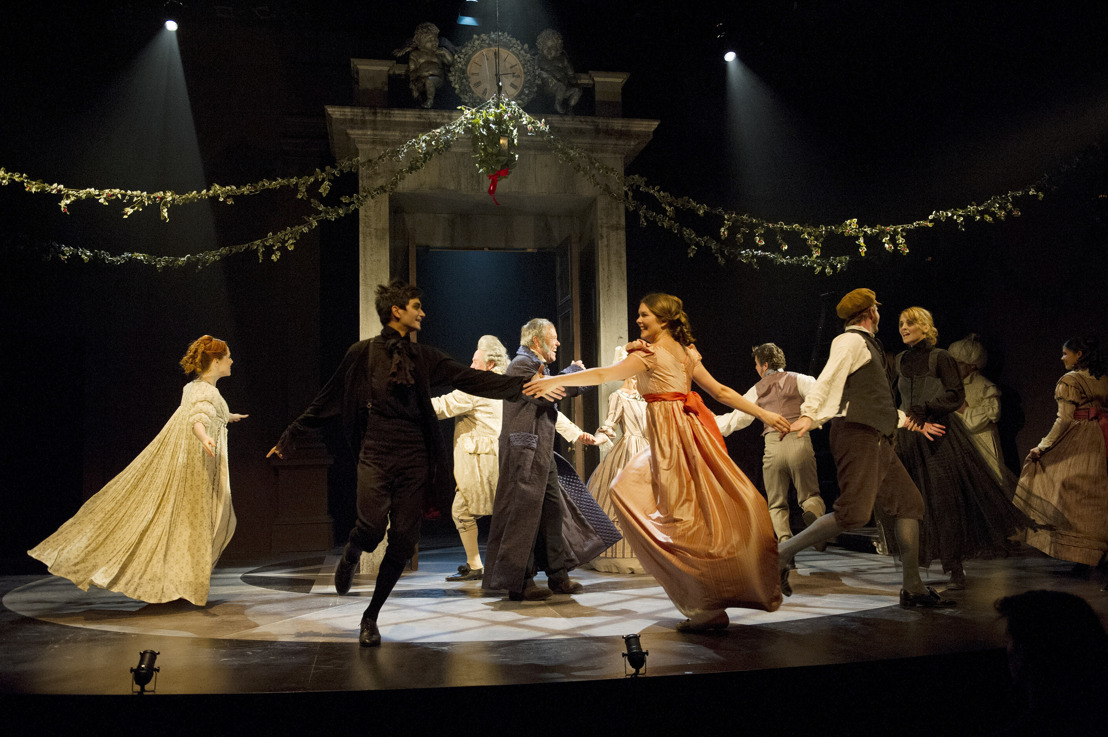 A Christmas Carol starts December 1
"This is the best holiday show I know, for people of any age, creed, or colour. Its message of love is universal and one that we need now more than ever." Toronto Star
Tuesday, November 17, 2015 — Victoria, BC... From December 1 - 20, 2015 the Belfry Theatre will remount its acclaimed 2012 production of Charles Dickens' A Christmas Carol, adapted and directed by Belfry Artistic Director Michael Shamata. Veteran actor Tom McBeath stars as one of literature's most enduring characters, Ebenezer Scrooge.
Joining Tom are Gerry Mackay as Jacob Marley, Geoffrey Ewert as Fred, Brian Linds as Mr. Fezziwig, Anton Lipovetsky as Bob Cratchit, Amanda Lisman as Belle, Celine Stubel as Mrs. Cratchit, Jan Wood as Mrs. Fezziwig and John Han and Jessica Hickman as Spirits.
Playing the Cratchit children are 16-year-old Lauren Alberico (from Claremont Secondary) as Martha, 17-year-old Ajay Parikh-Friese (from St. Michael's) as Peter, 11-year-old Abby Baker (from Central Middle) as Belinda, and 7-year-old Kyle Atlas Stahl (from George Jay Elementary) as Tiny Tim.
"…a visual delight…if you're going to pick just one yuletide entertainment…this one's a solid bet." Times Colonist
Written in 1843 in response to the social ills of Victorian England, A Christmas Carol profoundly changed western culture, reinvigorating the notion of Christmas and adding the now fundamental idea of charity at this time of year.
Over the course of one evening, "tight-fisted old sinner" Ebenezer Scrooge is visited by the Spirits of Christmases Past, Present and Future, who soften his heart and make him truly see the world around him. A Christmas Carol is the perfect story of redemption, reminding us to reach out to our fellow man, now and all year long.
"…gorgeous…everyone will love this show…" CBC Radio
Creative Team
Starring Tom McBeath (Ebenezer Scrooge), Gerry Mackay (Jacob Marley), Geoffrey Ewert (Fred), John Han (Spirit), Jessica Hickman (Spirit), Brian Linds (Mr. Fezziwig), Anton Lipovetsky (Bob Cratchit), Amanda Lisman (Belle), Celine Stubel (Mrs. Cratchit), Jan Wood (Mrs. Fezziwig) with Lauren Alberico (Martha), Abby Baker (Belinda), Ajay Parikh-Friese (Peter) and Kyle Atlas Stahl (Tiny Tim).
Director / Adaptation Michael Shamata
Designer John Ferguson
Costume Designer Nancy Bryant
Lighting Designer Alan Brodie
Composer Geordie Haley
Choreographer Jessica Hickman
Stage Manager Sara Robb
Assistant Stage Manager Erin Voaklander
Apprentice Stage Manager Sadie Fox
Assistant Director Tristan Bacon
The Belfry's sponsors for A Christmas Carol are The Co-operators, the Fairmont Empress Hotel, The Ocean and KiSS 103.1.
The Belfry's 40th Anniversary Season Sponsors are Thrifty Foods, Times Colonist, Cook's Day Off, and Helijet. Our public funders are the Canada Council for the Arts, the Province of British Columbia, British Columbia Arts Council, CRD Arts Development and the City of Victoria.
Ticket Information
Tickets for A Christmas Carol range from $24 - $53 (plus GST) at 250-385-6815 or online at https://tickets.belfry.bc.ca. Prices are subject to change.
The show is recommended for children age six and up. Elementary and High School students get half price tickets, and university and college students get 25% off their tickets.
Audience Notes
A Christmas Carol contains the use of stage haze and fog, and strobe lighting. The show runs approximately 2 hours, including one 15-minute intermission.
Mustard Seed Donations
During the run of A Christmas Carol, we encourage patrons to bring a non-perishable food item to put under the Christmas tree for the Mustard Seed Food Bank.
Performance Schedule (December 1 - 20, 2015)
Tuesdays - Thursdays at 7:30 pm
Fridays and Saturdays at 8 pm
Wednesday Matinee at 1 pm (December 9 only - SOLD OUT)
Saturday Matinees at 4 pm
Sunday Matinees at 2 pm
Sunday Evening at 7:30 pm (December 20 only)
-30-
Media Contact
Mark Dusseault
Director of Marketing & Communications
Belfry Theatre
250-385-6835
pr@belfry.bc.ca
Mark Dusseault Marketing & Communications Director, Belfry Theatre