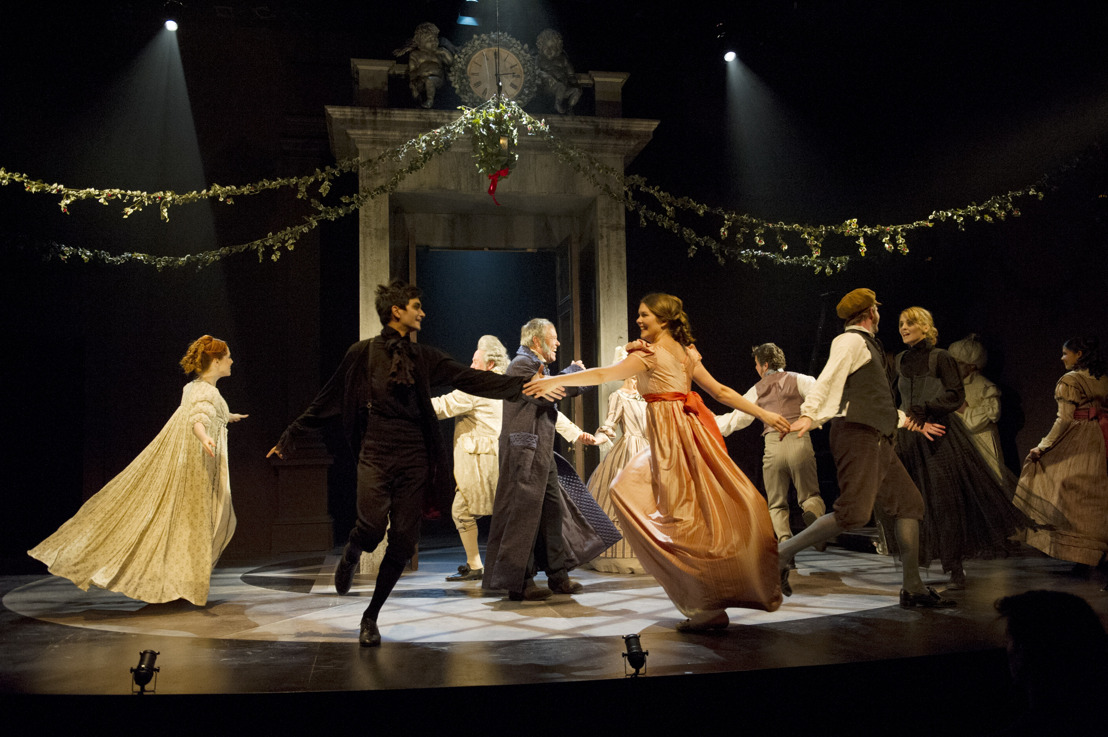 A Christmas Carol
"One of the best productions I've seen on the Belfry stage in 20 years…gorgeous…everyone will love this show…" CBC Radio
Thursday, November 9, 2017 — Victoria, BC... From November 28 to December 17, 2017 the Belfry Theatre will present its much lauded production of Charles Dickens' A Christmas Carol, adapted and directed by Belfry Artistic Director Michael Shamata. Veteran actor Tom McBeath stars again as literature's most enduring character, Ebenezer Scrooge.
Returning with Tom are Gerry Mackay as Jacob Marley, with Brian Linds as Mr. Fezziwig, Amanda Lisman as Belle, Celine Stubel as Mrs. Cratchit, Jan Wood as Mrs. Fezziwig, and John Han and Jessica Hickman as Spirits. Joining the cast for the first time are Evan Frayne as Bob Cratchit and Conor Wylie as Fred.
Playing the Cratchit children are Lauren Alberico (just graduated from Claremont Secondary) as Martha, William Robertson (école Victor-Brodeur) as Peter, 8 year old Azura Lepard (George Jay Elementary) as Belinda and 7 year old Jude Culham-Keays (Brentwood Elementary) as Tiny Tim.
"4.5 stars…smart…a visual delight…if you're going to pick just one yuletide entertainment…this one's a solid bet." Times Colonist
Written in 1843 in response to the social ills of Victorian England, A Christmas Carol profoundly changed western culture, reinvigorating the notion of Christmas and adding the now fundamental idea of charity at this time of year.
"This is the best holiday show I know, for people of any age, creed, or colour. Its message of love is universal and one that we need now more than ever." Toronto Star
Over the course of one evening "tight-fisted old sinner" Ebenezer Scrooge is visited by the Spirits of Christmases Past, Present and Future, who soften his heart and make him truly see the world around him. A Christmas Carol is the perfect story of redemption, reminding us to reach out to our fellow man, now and all year long.
Creative Team
Michael Shamata Director / Adaptation
John Ferguson Set Designer
Nancy Bryant Costume Designer
Alan Brodie Lighting Designer
Geordie Haley Composer & Sound Designer
Adrienne Smook Dialect Coach
Sara Robb Stage Manager
Christopher Sibbald Assistant Stage Manager
Becca Jorgensen Apprentice Stage Manager
Mustard Seed Food Bank Donations
Throughout the run of A Christmas Carol, the Belfry will be collecting food stuffs for the Mustard Seed Food Bank. Audience members are encouraged to bring non-perishable food (Canned fruit and vegetables, canned fish and meat, dry pasta, rice and oatmeal, cereal, pasta and cooking sauces), baby needs (formula, food and diapers) or personal items (soap, toothpaste, toothbrushes, deodorant, socks and underwear).
Show Sponsor
A Christmas Carol is generously supported by CIBC Wood Gundy / Blue Heron Advisory Group, Peninsula Co-op and 98.5 the Ocean.
Season Sponsors
The Belfry is generously supported by The Times Colonist and Helijet.
Public Funders
The Belfry is funded by the Canada Council for the Arts, the Province of BC, BC Arts Council, CRD Arts Development and the City of Victoria.
Ticket Information
Tickets for A Christmas Carol range from $20 to $53 (plus GST). Tickets are available at 250-385-6815 or online at tickets.belfry.bc.ca. Prices are subject to change.
The show is recommended for children age eight and up, and Elementary and High School students get 50% off tickets. University and College Students get 25% off their tickets.
Rush Tickets
For our weekday evening performances we offer a limited number of last minute rush tickets at a discount. Rush tickets are:
> available at the Box Office 30 minutes before each evening performance (Tuesday to Friday),
> in person only,
> subject to availability, and
> 40% off our regular Zone 2 (Yellow Section) and Zone 3 (Red Section) ticket prices.
Ticket Discounts
Elementary and High School Students – 50%
University / College / Post Secondary Students – 25%
Seniors – 10%
Members of the Military – 25%
Groups (10 or more) – 10%
Performance Schedule (November 28 - December 17)
Tuesdays - Thursdays at 7:30 pm
Fridays and Saturdays at 8 pm
Wednesday Matinees at 1 pm (December 6 & 13)
Saturday Matinees at 4 pm
Sunday Matinees at 2 pm
-30-
Media Contact
Mark Dusseault
Director of Marketing & Communications
Belfry Theatre
250-385-6835
pr@belfry.bc.ca