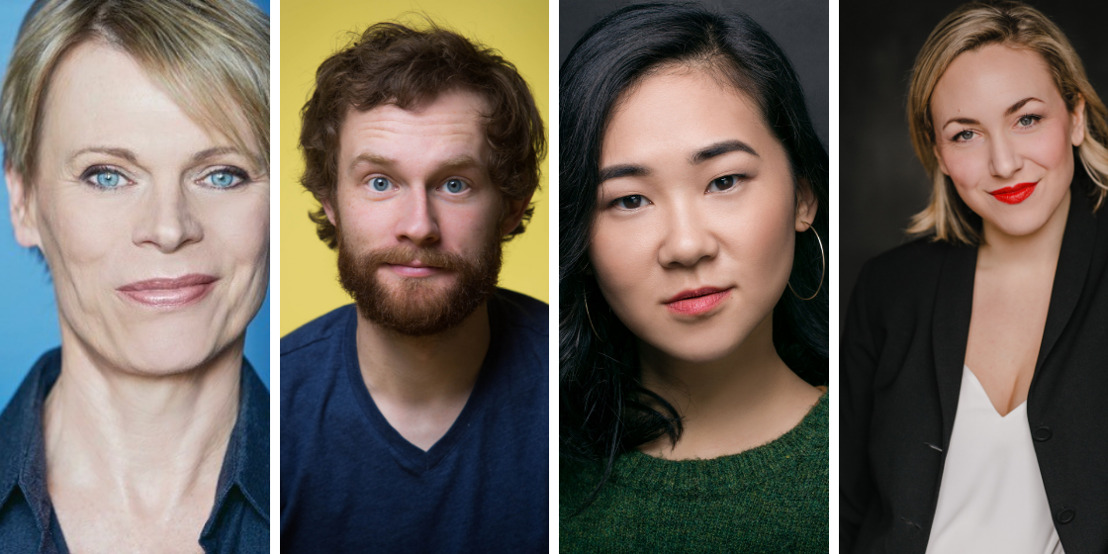 4000 Miles
"If your heart is sick or just needs warming, go and see this play. If you are a baby-boomer who doesn't understand your grandchildren or are from Gen Y and are, like, really weirded out by your grandparents, go and see this play. If you simply love theatre, go and see this play." Sydney Morning Herald, Australia
Friday, March 22, 2019 — Victoria, BC...From April 9 - May 5, 2019, the Belfry Theatre will present 4000 Miles, Amy Herzog's Pulitzer Prize-nominated play about growing up and growing old. Directed by Anita Rochon, 4000 Miles stars Brenda Robins (as Vera), Nathan Howe (as Leo), Julie Leung (as Amanda) and Lucy McNulty (as Bec).
"…funny, moving, altogether wonderful. . . A heartening reminder that a keen focus on life's small moments can pay off in a big way onstage." New York Times
New York. The middle of the night. Vera, an irascible, politically active 90-year old is awakened by her grandson, Leo, who has cycled from Seattle on a trip with his best friend.
In their month together, Vera and Leo bewilder each other, argue and connect as they discover the thin line between growing up and growing old.
"Herzog unravels the details slowly, with uncommon narrative skill.... Everything about 4000 Miles seems fresh, particularized, plausible....the family drama that really sticks with you, easily the best play of the season." TIME Magazine
Actors Brenda Robins and Nathan Howe are returning to the Belfry. They were last seen in Vanya and Sonia and Masha and Spike and Salt Baby, respectively. Julie Leung and Lucy McNulty are making their Belfry debuts.
WHY I CHOSE THIS PLAY
Amy Herzog's writing is so exquisite, and this story is so simple and true and affecting, I have wanted to program it for years. Funny and recognizable – it sneaks up on you, and before you know it – you don't want to say goodbye to these people. Michael Shamata, Artistic Director
Creative Team
Anita Rochon - Director
Peter Hartwell - Set & Costume Designer
Wendy Lundgren - Lighting Designer
Steven Charles - Sound Designer
Christopher Sibbald - Stage Manager
Emily Mewett - Assistant Stage Manager
Shanae Sodhi - Assistant Director
Aidan Dunsmuir - Assistant Sound Designer
--
Live Events in April & May
B4PLAY
Saturday, April 6 at 11 am
Belfry Studio Theatre, 1291 Gladstone Avenue
Free Event. A live talk show hosted by CBC Radio's Gregor Craigie and featuring interviews with actor Nathan Howe, director Anita Rochon, and community experts Kyle Cheveldayoff (a Registered Psychologist and retired firefighter) and Professor Michael Nowlin (Chair, English Department, University of Victoria).
--
Talkback Thursday
Thursday, April 18
Meet the actors post-performance when they return to the stage to answer questions and provide insight into the play.
--
Afterplay
Facilitated discussions – audience member to audience member – will follow every evening performance of 4000 Miles (except Opening Night and Talkback Thursday). These are a great opportunity to share your thoughts and hear fellow patrons' reactions to the production and the ideas it presents.
--
VocalEye
Sunday, April 28 at 2 pm
For patrons with low or no vision, we offer this VocalEye performance during 4000 Miles. Trained Audio Describers provide descriptions of the visual elements of the show, allowing people with low vision to enjoy the theatrical experience without missing any of the details.
__
Free Childcare Performances
Sunday, April 21 at 2 pm / Saturday, May 4 at 4 pm
Parents of children (between 3 - 10 years old) can see a show at the Belfry and we'll take care of the children for free.
Children are cared for by a trained, professional Early Childcare Educator, just a short stroll from the theatre, free of charge. Childcare space is at a premium so we ask parents to reserve in advance, at least 1 week prior to your chosen performance.
To learn more, please email us at hello@belfry.bc.ca, or call the box office at 250-385-6815 to reserve tickets and free childcare.
--
Show Sponsors
4000 MIles is generously supported by BMO Financial Group and Broadmead Hearing Clinic.
--
Season Sponsors
The Belfry is generously supported by The Times Colonist and Helijet.
--
Public Funders
The Belfry is funded by the Canada Council for the Arts, Canadian Heritage, the Province of BC, BC Arts Council, CRD Arts Development and the City of Victoria.
--
Ticket Information
Tickets for 4000 Miles range from $20 to $55 (plus GST). Tickets are available at 250-385-6815 or online at tickets.belfry.bc.ca. Prices are subject to change.
Tickets for 4000 Miles - https://tickets.belfry.bc.ca/TheatreManager/1/tmEvent/tmEvent1021.html
--
Rush Tickets
For our weekday evening performances we offer a limited number of last minute rush tickets at a discount. Rush tickets are:
> available at the Box Office 30 minutes before each evening performance (Tuesday to Friday),
> in person only,
> subject to availability, and
> 50% off our regular Zone 2 (Yellow Section) and Zone 3 (Red Section) ticket prices.
--
Ticket Discounts
Students – 50%
Seniors – 10%
Members of the Military – 25%
Groups (10 or more) – 10%
--
Performance Schedule (April 9 - May 5)
Tuesdays - Thursdays at 7:30 pm
Fridays and Saturdays at 8 pm
Wednesday Matinees at 1 pm (April 17, 24 & May 1)
Saturday Matinees at 4 pm (Free Childcare offered on May 4)
Sunday Matinees at 2 pm (VocalEye offered on April 28 / Free Childcare offered on April 21)
-30-
--
Media Contact
Mark Dusseault
Director of Marketing & Communications
Belfry Theatre
250-385-6835
pr@belfry.bc.ca